Call of Duty: Black Ops 3's Free Multiplayer Weekend
The price of war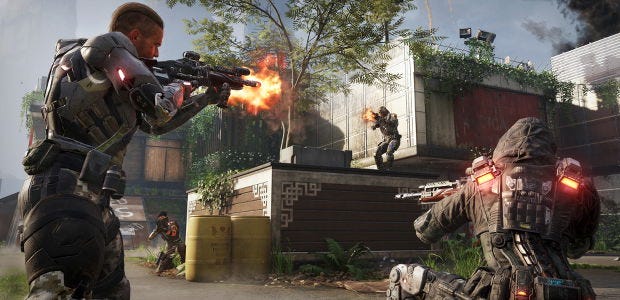 Call of Duty: Black Ops III - Multiplayer Starter Pack is a big mouthful for a simple idea: it's Cod Blops 3's [official site] ranked multiplayer sold separately as a cheaper standalone game. It's an interesting experiment in selling CoD's many modes separately and a short one - Activision will stop selling it on Monday. But until Sunday evening, you can check out this substantial slice of CoD for free. This handy link should fire up Steam and start installing it.
You've got until 9pm GMT/1pm PST on Sunday to play everything in the Starter Pack. That's the main game's online multiplayer mode, its ranked Arena mode, its Freerun parkour mode, its Weapon Paint Shop, its Theater replay suite, and its Black Market. Everything else is off limits - such as the Zombies mode, Nightmares mode and of course the Campaign mode.
The odd thing about this method of portioning out modes, though, as Alice discussed previously, is that it seems Activision are merely using the Starter Pack as a stepping stone to entice players to buy the main game; not as a full standalone in and of itself. It would've been nice to see less restrictions placed on DLC maps - the Zombies mode, for example - within this package but alas it wasn't to be.
That said, the Starter Pack is free until Sunday, before it vanishes from sale come Monday. Furthermore, Activision are offering a 33% discount to the full game this weekend and 48% off upgrades from the Starter Pack to the full game. [Whoops, snipped out some foolishness from old brokenbrained Alice -ed.]