Call Of Duty: Ghosts Wants Your ENTIRE HARD DRIVE
50 GB. Even more in dog numbers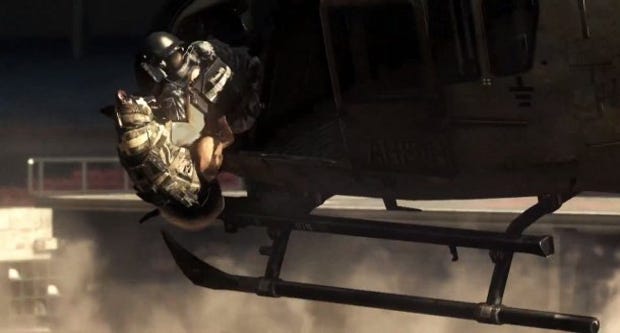 When I first read over the newly released specs for Call of Duty: Ghosts, I heard a high-pitched wail from within my PC's case. Now, it should be noted that my PC is, in fact, haunted by an actual ghost, so I initially thought nothing of it. But then, when the ghost announced it was going out to buy a carton of milk, the pained whimpering continued. That's when I understood: it was my hard drive. CODBOO's 50 GB requirement filled the poor slab of storage with a primal terror, and it clawed helplessly at unfeeling walls in an attempt to escape. That, in turn, startled my molasses-slow Internet connection, which began bellowing in horrific dial-up tones. Neither will stop. So thanks, Infinity Ward. Thanks a lot.
Here are the specs, courtesy of Nvidia:
Minimum System Requirements
OS: Windows 7 64-Bit / Windows 8 64-Bit
CPU: Intel Core 2 Duo E8200 2.66 GHZ / AMD Phenom X3 8750 2.4 GHZ or better
RAM: 6 GB RAM
HDD: 50 GB HD space
Video: NVIDIA GeForce GTX 550 Ti / ATI Radeon HD 5870 or better
Sound: DirectX Compatible Sound Card
DirectX: 11
Internet: Broadband connection and service required for Multiplayer Connectivity. Internet connection required for activation.
Recommended System Requirements
Video: NVIDIA GeForce GTX 780
Why does a rather ho-hum looking (and not particularly lengthy, especially on the single-player side) game demand these lofty specs? I haven't the foggiest, but let us not forget that this is the first Call of Duty with both playable dogs and women, which of course means that... yeah, I've got nothing. Maybe Riley has over three million lines of meticulously recorded doggy dialogue or something.
The Internet requirement is also a bit questionable. If it's just for multiplayer, then there's nothing to see here. However, the list goes on to note that it's "required for activation" as well, which could a) also apply to single-player and b) come with its own set of restrictions in regards to install limits, check-ins, etc. I've mailed Activision for clarification.
So there's that. In other news, how about those revised Watch Dogs specs? I suppose that one at least has reasons for demanding a rig of lordly caliber. Still though, how are those of you with mid-range machines feeling? Is it time to start squirreling away cash for an upgrade?