Call Of Duty Ghosts Just Can't Stand Those Awful Women
Shooting an alien in the fookin face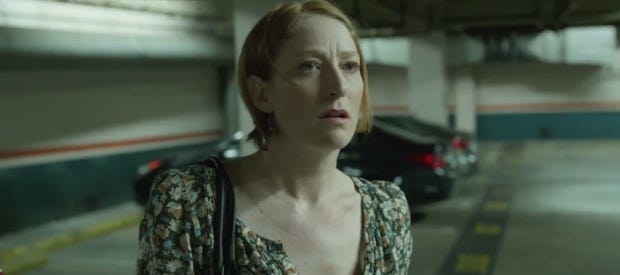 Call Of Duty's online world has something of a reputation. A reputation for being a cesspit of revolting idiocy, bile and cruelty, rather spoiling it for those who just want some multiplayer shootyfun. So it is to this that Activision have targeted their latest trailer for Ghosts Onslaught. To the idiots, I mean.
Call Of Duty is, in Activision's mind, what men do when they can finally escape the horrors of hideous wives or children. A game for men only. MEN. Not those awful nags! Just the lads! Cor eh guys, don't the missus just go on and on and stop you from enjoying shouting obscenities into your microphone because of something about raising the kids or whatever she's whinging about now?! Because it's apparently 1994, and we're all reading Loaded.
My explanation: an advertising executive time travelled from a more pathetic age. "Hey guys," he said, to the room full of other men. "What if we show massively traumatised women while men enjoy a sit down and a game of COD?" The others all sit up in interest, slicking back their slicked back hair. "Go on, go on," says their 27 year old boss, coughing slightly on the cigarette he's trying to smoke. "You've got our synergistic attention."
"Okay," continues the inspired one, "and you see..." He pauses, looks around the room at the open-mouthed rapture of his colleagues, and breathes in the moment. "Well 'COD' - that sounds a bit like 'KID'. We could say..." He stops again, as everyone leans forward. "We could say, 'CODNAPPED'!"
There's silence for a moment. And then just the throng of applause. One man weeps with joy, and is immediately shot in the head. The rest lift our genius onto their shoulders, and carry him from the room, cheering and explaining to each other about their potential for consuming alcohol and that time they saw a boob.
And scene.
It's rather pitiful really, isn't it? Which is a bit of a shame, because blimey, the game bits look pretty decent. Call Of Duty: Ghost's single player was utterly dreadful, but look at those massive alien things! That's part of Extinction Episode 1: Nightfall. That bit looked pretty interesting. Just showing the game, I imagine they'd have appealed to not only the fuckwits they're apparently targeting with the rest of the ad, but also, you know, other people. I'm pretty sure other people have some money too.