Canny Valley: The Vanishing Of Ethan Carter
First non-teaser footage of horror title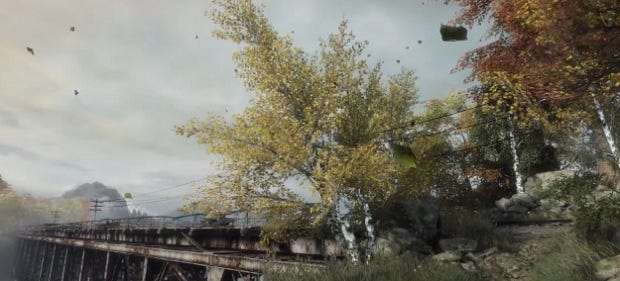 The Vanishing Of Ethan Carter is a weird horror game from The Astronauts, a team comprised of Bulletstorm veterans. Until now, very little of the game has been revealed and the latest trailer only moves the veil a couple of inches. We know that Ethan Carter is a boy and that he has vanished. We know that the player character is the preposterously named Paul Prospero, an occult detective, and we know that the story takes place in Red Creek Valley. The location, as you may remember, has been created using clever-clogs scanning techniques. We've seen gifs but the new video shows the scenery in action. Being scenery, it's not doing anything particularly dynamic, it's just sort of being there and looking pretty.
CLOBBER BASH WALLOP
The scenery might not be particularly active but Old Man Chuckleshoe makes sure to add a spot of the old ultraviolence.
This is the first trailer for the game, with the focus on the mood of the story the players can experience, and the visuals one can expect from the game. The trailer is a real-time in-game capture (PC), just with the cameras set to tell a certain story.

Also, the release date for the PC version? Third quarter of 2014. Fingers crossed!
Lovely stuff. Except for the brain bludgeoning. That's not lovely at all. And the old man would probably get away with it if it weren't for that pesky Paul Prospero.