The Great Prosperini, PI: The Vanishing Of Ethan Carter
Adventure game from former Bulletstorm folks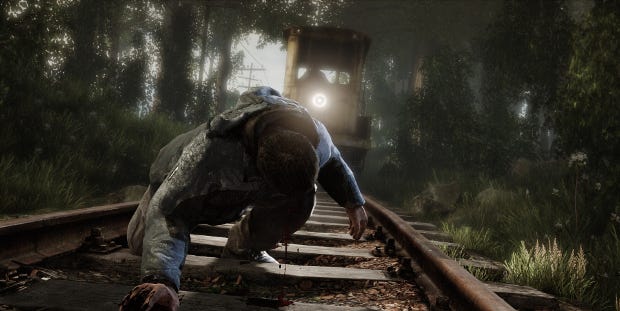 Private investigator seems a noble, or perhaps unambitious, career for a magic man. Possessing supernatural powers of precognition, Paul Prospero (he even has a great magician name!) decided to become a detective rather than e.g. a Strike It Lucky winner. No, instead he's out poking around forests looking for a missing child in The Vanishing of Ethan Carter.
13 minutes of first-person mystery-solving gameplay are on this here Internet for your eyes to see in a new trailer from developers The Astronauts. The former Bulletstorm folks have also announced they'll launch the game on September 25.
See, The Great Prosperini is looking for a missing kid who'd sent him a message about strange shenanigans in the remote community where he lived. He's come to solve occult mysteries using his magic powers: word clouds swirling around clues like Sherlock Cumberbatch; special vision hinting at where missing objects lie; and the power to reconstruct dead folks' final memories. It's an adventure game, you see, but in full 3D free-roam-o-vision thanks to fancy tech that scans real-world objects and environments. It'll cost £14.99.
Adam reminded me that he "had a proper good look" at the game during Gamescom, saying he'll have words for you to read next week.