EVE: Valkyrie studio joins Sumo Digital
Blast off!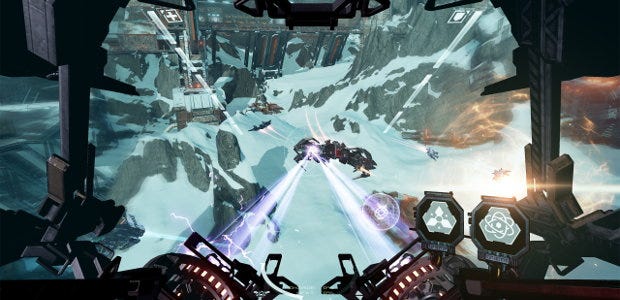 Here's a little good news to start the year: CCP Newcastle, the studio behind EVE Online's spin-off shooter EVE: Valkyrie, have found a buyer. Their fate had seemed uncertain since October 2017, when CCP announced they would try to sell the Newcastle studio as part of stepping away from making VR games. But the news sounds good, as the Newcastle mob are being picked up by Sumo Digital, the UK-based studio behind games including Snake Pass and Sonic & All-Stars Racing Transformed.
34 folks from CCP Newcastle have come over to Sumo, and will stay in Newcastle. Obviously they're not bringing Valkyrie with them. The studio director is Owen O'Brien, who was lead producer of Valkyrie.
Sumo Digital aren't that known a name as they mostly chip in on ports and pieces of others' games, but they have made some decent stuff. Fingers crossed that the Geordies will get to make things more along the exciting end of the spectrum, especially considering they're now the fourth Sumo studio.
"As we continue to expand this was a great opportunity to bring an experienced, talented and tight-knit team on board," Sumo managing director Paul Porter said in today's announcement.
Poking around what we've written about Sumo Digital games before, I was reminded that Duncan Harris's chat with Sumo about making OutRun 2006: Coast 2 Coast is still good. Some good technical trickery and chinwagging about working with Sega.