Cel-shaded PUBG, '70s Truck Sim and zinester Assassin's Creed with new Nvidia tool
Real-time Instragram for games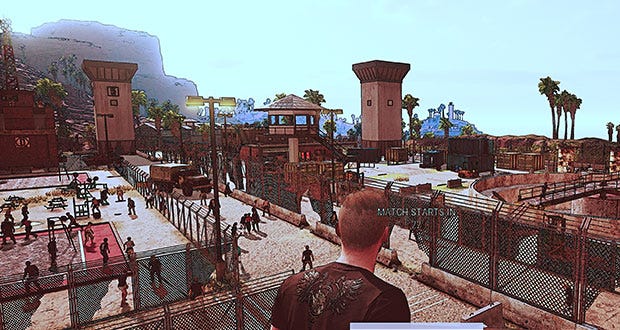 Post-processing tools for games aren't new - hello Reshade and SweetFX - but the world of dramatically altering a PC game's appearance with what could loosely be described as real-time Instragram filters has always been a scrappy wild west. Nvidia have this week built themselves a governor's mansion on this new frontier, introducing a feature called 'Freestyle' to the GeForce Experience suite of game optimisation, streaming and screenshotting tools. It might lack the open source and community-driven scope of ReShade, but it's easier and slicker to use on the games that support it - and the results can be dramatic. Gimmicky, sure, but making a game you're otherwise tiring of into a neon fever-dream can be a real shot in the arm.
Presenting for your wide-eyed delectation and howling disapproval - Plunkbat: The Animated Series, Assassin's Creed Oranges: Vice City and American Truck Simulator: Grindhouse Edition.

Freestyle is, I'm afraid, only available for Nvidia cards, though again there's the ReShade option (which also supports a wider range of games) if you're on AMD and don't mind a bit more fiddle. It also requires installing the latest drivers and GeForce Experience application, then heading to Settings - General - Enable experimental features in said application in order to opt-in to the beta version with Freestyle.
From there, you can bring up Freestyle options in-game by pressing Alt-F3, but for the time being only in selected titles. The full list is at the end of this post, and more are being added over time - indeed, the ranks have swelled in the day since I started fiddling with Freestyle.
Freestyle can't do some of the more genuinely useful stuff that ReShade can, like improved anti-aliasing or adding ambient occlusion to games with limited options - it's strictly for mucking around with the appearance. I've found there to be three realistic uses for it in its current state: knocking up eye-catching screenshots or desktop wallpapers; making a game which you've grown tired of or is too po-faced for its own good a little more lively for a time; in a handful of cases, lending a brand new atmosphere to the familiar.
The best element of it is that you can tweak entirely in real-time, using an array of easy effect, lighting/constrast and colour sliders (or a few presets) to come up with something you're happy with. It's a toy, basically, and while it could be dismissed as silly or gimmicky, I genuinely enjoy seeing how strange, horrific or simply strikingly different I can make games I know well look.
Here's a few early highlights. Click on each for a 1080p version.
PlayerUnknown's Battlegrounds does Borderlands
The 'Sketch' filter adds faux-comicky outlines and bleaches out colour - maxed out, it just looks like you've got a piece of tracing paper taped over your monitor. But add in the Half-Tone effects and bump colour settings such as vibrancy up high and you end up with a broad simulacrum of the sort of thick lines/flat texture aesthetic seen in the likes of Borderlands or Telltale's Walking Dead. It's not entirely appropriate for characters, but does some eye-catching stylisation of the Monument Valley-like landscapes of Plunkbat's new Miramar map. I played an entire match like this and really dug it - far more so than I'd expected.
Assassin's Creed: Oranges - 80s fanzine edition
Definitely click through the larger version here - the effect's somewhat lost in the wee'un. Sure, Assassin's Creed Oranges is a very pretty game in its own right, but it doesn't look like the poster-printed cover of a hand-made Cramps fanzine, does it? The 'Mood' filter comes in all sorts of colours, by the way, but the neon nightmarescapes of pink and purple plus a bunch of colour-amplifying sliders and the Half-Tone filter are hard to beat.
Eurotruck Simulator 2 does the 70s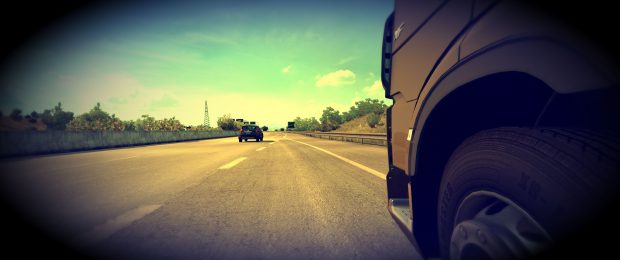 People, by and large, suffer when these filters are applied - too much detail, too many possible points of failure. But trucks? Trucks are easy. In Eurotruck Simulator 2 (sadly American Truck Sim is not officially supported as yet), the almost purely vehicular focus means effects are dramatic and broadly more convincing. It's also, to be brutally frank, quite a stark and sometimes flat-looking game, which means the filters can be more transformative than they would in something with far fancier shaders and lighting. I came up with quite a few things I dug (see below), but nothing sang as much as the 'Retro' preset, which lent the whole affair a sort of grindhouse feel - all dirty shadows at the corners, sunset colours and over-exposed highlights, like a polaroid lying in a gutter. It's cheesy for sure, but it lends ETS2 an instantly more filmic appearance, and I'm very happy to play the game this way.
Alternatively, there's Post-Apocalyptic Truck Simulator:
Or Borderlands vs Van Gogh (check out the clouds in the wing mirror):
Something I wish worked a bit better was the depth of field filter, whose bokeh effects from certain angles blesses ETS2 with some of the depth it's sorely lacking, but for now it also adds blur and weird ripples to the wrong parts of the scene. Maybe over time...
Early days for these tools, and whatever updates they see will need to work hard to escape gimmick status - but I enjoy playing with them, and hope they do become more powerful and versatile as time goes on.
Here's the full list of supported games, or keep an eye on this page for new'uns.
300 Ying Xiong (300 Heroes)
7 Days to Die
Archeage
Ark: Survival Evolved
Assassin's Creed
Assassin's Creed II
Assassin's Creed Origins
Assassin's Creed: Brotherhood
Assassin's Creed: Revelations
Assassin's Creed: Rogue
Assassin's Creed: Unity
Battlefield 3
Black Desert
Borderlands 2
Call of Duty Online
Call of Duty: WWII
Call of Duty: Black Ops III
Cities: Skylines
Counter-Strike: Global Offensive
Counter-Strike: Source
CrossFire: Rival Factions
Crossout
Cuphead
Dark and Light
Dark Souls II
Dark Souls III
Dead by Daylight
Dead or Alive 5: Last Round
Diablo III
Dishonored
DNF
Don't Starve
Dota 2
Dragon Age: Inquisition
Dream Three Kingdoms 2
Dying Light
Euro truck simulator 2
Europa Universalis IV
Faith of Danschant (神舞幻想)
Fallout 4
Far Cry 4
FIFA 17
FIFA Online 3
Final Fantasy XIV: A Realm Reborn
For Honor
Grand Theft Auto V
Grand Theft Auto: San Andreas
Grim Dawn
Guild Wars 2
H1Z1: King of the Kill
Half-Life 2
Hearthstone
Hearts of Iron IV
Hellblade:Senua's Sacrifice
Insurgency
JX Online 3 (劍俠情緣3)
Killing Floor 2
Left 4 Dead 2
Mad Max
Mafia III
MapleStory
Mass Effect: Andromeda
Metal Gear Rising: Revengeance
Middle-earth: Shadow of Mordor
Middle-earth: Shadow of War
Moonlight Blade
NBA2K Online
Need for Speed Online
Need for Speed: Payback
Paladins
Payday 2
Playerunknown's Battlegrounds
Pro Evolution Soccer 2018
Qian Nv You Hun (倩女幽魂)
QQ Dance
QQ Dance 2 (QQ炫舞2)
QQ Speed
Rocket League
Rust
Sid Meier's Civilization V
Smite
StarCraft II: Legacy of the Void
Stellaris
Team Fortress 2
Terraria
The Elder Scrolls Online
The Elder Scrolls V: Skyrim Special Edition
The Evil Within 2
The Forest
The Sims 3
The Sims 4
The Witcher 3: Wild Hunt
Tian Long Ba Bu
Titanfall 2
Tom Clancy's Ghost Recon Wildlands
Tom Clancy's Rainbow Six Siege
Transformers Online
Unturned
Warface
Warframe
War Thunder
Watch Dogs
Watch Dogs 2
Wolfenstein II: The New Colossus
World of Tanks
World of Warcraft: Legion
World of Warships