Cities: Skylines erects Green Cities expansion this year
These green buildings are nice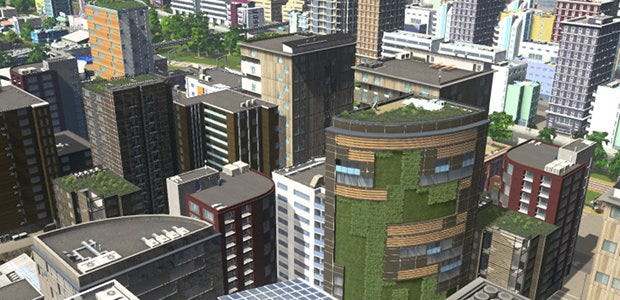 If the recent launch of the Concerts "mini-expansion" for Cities: Skylines [official site] made you wish the city-builder would get something more substantial, good news! Paradox today announced the Green Cities expansion for release later this year. As you might expect, it will let you turn your cities all hippy-dippy with everything from organic shops to plant-clad buildings. It bungs in a load of new assets for these and more, which should be nice for making cities more varied. Have a peek in the trailer:
Paradox blast this blurb too:
"Cities: Skylines - Green Cities adds 350 new assets to the core game, adding a massive selection of new visual options, complete with eco-friendly buildings, organic stores, electric vehicles, and new services designed to make pollution a quaint notion of the past. Players can create more diversified cities, or go completely green as the urban population grows. New in-game services and buildings arrive alongside revisions to noise and environmental pollution, making the skies safer for Chirper at last."
Green Cities will cost £9.99/12,99€/$12.99 when it launches some time later this year.
As is the Paradox way, a free update will launch alongside the expansion for everyone. Paradox say it "will include electric cars, road modding, changes to noise pollution, and more beautification options in the form of parks and trees, among other things."
Our Adam was gassing with Paradox this morning in Germany so I assume he'll have more to tell us at some point. Or a collection of currywurst-stained t-shirts and a banging hangover.