Cities: Skylines - Green Cities expansion blooms today
What lovely cities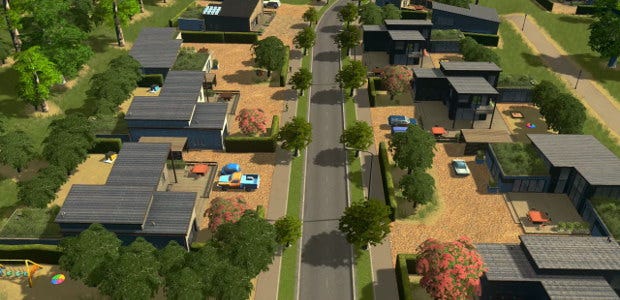 Modern cities are okay but for those who'd rather dream a little utopian, Cities: Skylines today launched its Green Cities expansion. Like other Skylines expansions, Green Cities doesn't massively expand game systems but does bring some eco-friendly new buildings to erect -- blocks clad in vertical planting, solar updraft towers, organic food shops, that sort of thing -- which have a few thematic new functions. They do look very nice. A free update has launched alongside the expansion too, with new content from electric cars to extra types of park.
Oh, and if you're not Skylining yet, the game is on sale right now too.
There's a lot to get through. Let's go. Green Cities! It adds eco-conscious infrastructure from recycling centres and geothermal power plants to stuff that's just nice to have around, like community pools and floating gardens. It's 350-ish new assets and all, which is a good chunk to expand the fun of building nice cities. Accompanying hose are new policies, new scenarios, and new maps.
Green Cities will run you £10/€13/$13 on Steam.
Also out today for cash money is the European Suburbia DLC, which for £4/€5/$5 adds 80-odd new buildings and props inspired by, y'know, European suburbs. This is a 'Content Creator Pack', official DLC made by a Skylines community modder.
And for everyone, costing no money, a big new update is out today. It brings electric cars, new parks (I like the sound of tropical gardens and floating cafes), new trees, an overhaul of noise pollution, and loads of bug fixes.
OR if you don't own Skylines at all, this weekend you can get it now at 75% off. It's £5.74/€6.99/$7.49 on Steam. Other expansions and DLCs are discounted too.
The version 1.9.0 patch notes detail everything, covering the expansion, the DLC, and the free bits.