Crypt of the NecroDancer expansion boogies out
Hot new moves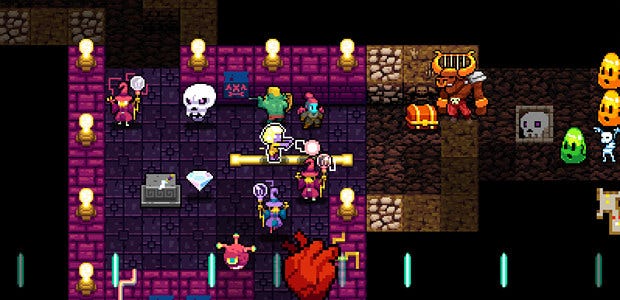 After almost six months practising its moves in front of the early access mirror, the new 'Amplified' expansion for Crypt of the NecroDancer [official site] is ready to hit the dancefloor. The prequel DLC launched last night, bringing a new story, a new zone, protagonist, enemies, items, songs, and more to the dungeon-crawling rhythm game. More of a good game is good. Here, have a look at this:
Crypt of the NecroDancer: Amplified focuses on Nocturna, a vampiric shapeshifter who can transform into a bat to gain powers of flight, vision, and blood-bathed regeneration.
If you've played Amplified during early access, you might fancy knowing what this full launch has brought. The answer is two new final bosses, new story cutscenes, new playable characters, new modes, new items, new music, and fixes aplenty.
Crypt of the NecroDancer: Amplified is £3.99/5,59€/$5.59 on Steam and a few Britcents more on GOG, including a 20% launch discount which expires tomorrow. The base game is on sale on Steam and GOG too, down to £2.19/2,99€/$2.99. Steam also cuts a few extra pennies for people buying both together.
If you've not played NecroDancer, do have a crack. It's a dungeon-crawler where things move and attack in time to the music, meaning you get into a groovy groove while trying desperately to murder monsters for the contents of their pockets. Pip called it one of her favourite games of 2015, while Alec dug it too and Quinns took a look in Cogwatch.