Crysis 3 Confirmed, Is Crystal Maze-y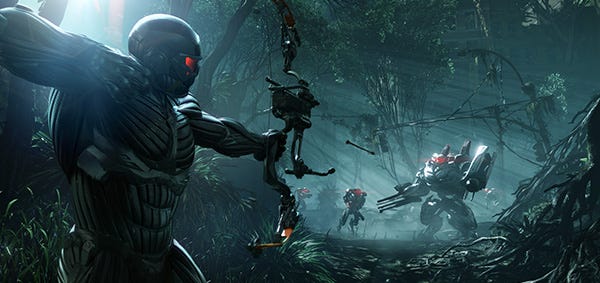 Here is a poorly-kept secret: I'm not a very tall man. Here is another one: Crysis 3 is happening. Even before evidence turned up last week, a fourth nanosuited adventure seemed something of a given, but it's taken the EA-Crytek announcengine this long to formally confirm the next game. I've just played Press Release Bingo and I've got a "stunning", a "state of the art", an "unparalleled visuals", an "ultimate", a "leveraging the latest technology" and enough pre-order unlocks to kill a small horse.
Confirmed: we'll play as angry baldy man Prophet (those who've finished Crysis 2 can probably work out why that's the case), that bow and arrow is legit, it's due next Spring, it's using CryEngine 3, it's going to have "sandbox gameplay" and it's set in a New York trapped inside an Nanodome which has caused it to transform into an 'urban rainforest.'

I don't have any information other than that which came down the wires, which is this:
"Players take on the role of 'Prophet' as he returns to New York, only to discover that the city has been encased in a Nanodome created by the corrupt Cell Corporation. The New York City Liberty Dome is a veritable urban rainforest teeming with overgrown trees, dense swamplands and raging rivers. Within the Liberty Dome, seven distinct and treacherous environments become known as the Seven Wonders. This dangerous new world demands advanced weapons and tactics. Prophet will utilize a lethal composite bow, an enhanced Nanosuit and devastating alien tech to become the deadliest hunter on the planet.

Set in 2047, Prophet is on a revenge mission after uncovering the truth behind Cell Corporation's motives for building the quarantined Nanodomes. The citizens were told that the giant citywide structures were resurrected to protect the population and to cleanse these metropolises of the remnants of Ceph forces. In reality, the Nanodomes are CELL's covert attempt at a land and technology grab in their quest for global domination. With Alien Ceph lurking around every corner and human enemies on the attack, nobody is safe in the path of vengeance. Everyone is a target in Prophet's quest for retribution."
The idea of city that's turning back to nature, a la The World Without Us, makes for an appealing setting, and is potentially a canny plot device by which Crysis could return to its more forested, exploratory roots without having to abandon its latter-day gritty urban sci-fi saga thing.
Apparently these aforementioned 'Seven Wonders' offer seven very different settings to adventure through too. Giant dome? Themed environments? Bald guy? That sounds like the Crystal Maze to me - I do hope someone's notified Channel 4's lawyers.
Exactly like Crysis, I'm sure you'll agree.
Also there are pre-order bonuses blah blah multiplayer unlocks blah you know modern videogaming sigh. "The Crysis 3 Hunter Edition gives players the tools to become the ultimate hunter in multiplayer with early access to the new signature bow and its attachments, plus the Hunter Nanosuit module which adds additional power and functionality to the super-suit. Gamers who pre-order now will also have a head start when playing online with a bonus XP boost up to level 5, a unique bow skin and three exclusive dog tags to hunt in style."
Sigh.
Sigh.
Additionally, "select retailers are offering gamers that pre-order Crysis 3 the following early multiplayer unlocks"
-- Stalker Pack -- Includes the base game, all Hunter Edition content and the following early multiplayer unlocks: for players who like to stalk their prey from the shadows the Stalker Pack provides early multiplayer access to the deadly semi-auto Jackal shotgun. This powerful, close-range shotgun comes with a unique silencer attachment, custom weapon skin and two exclusive themed in-game dog tags.

-- Overkill Pack -- Includes the base game, all Hunter Edition content and the following early multiplayer unlocks: the Overkill Pack features early multiplayer access to the Typhoon assault weapon and skin. Spewing 500 rounds a second, the Typhoon gives players the ability to go guns blazing to take back the Liberty Dome. Also included are two exclusive Overkill themed in-game dog tags.

-- Predator Pack -- Includes the base game, all the Hunter Edition content and the following early multiplayer unlocks: the Predator Pack delivers early multiplayer access to the Feline submachine gun and exclusive camo. With an extremely fast rate of fire and a 60 round magazine the Feline is highly effective and deadly, at short range.
Sigh.
Anyway, forget about that moneygrubbing stuff and let's all look at the pretty screenshots instead. Click for embiggening, please.
So that's Spring 2013 for that, on PC and the current generation of consoles (but not the Weeoooo).
And here's the rest of that Crystal Maze episode, in case you were on tenterhooks about who wins:
I think we can all agree that it was never the same once Dicky O'Brien left and they hired Ed Tudor-Pole instead. Fasterfasterfaster!