CS:GO - Panorama UI guide
Everything you need to know about the new Panorama UI in CS:GO.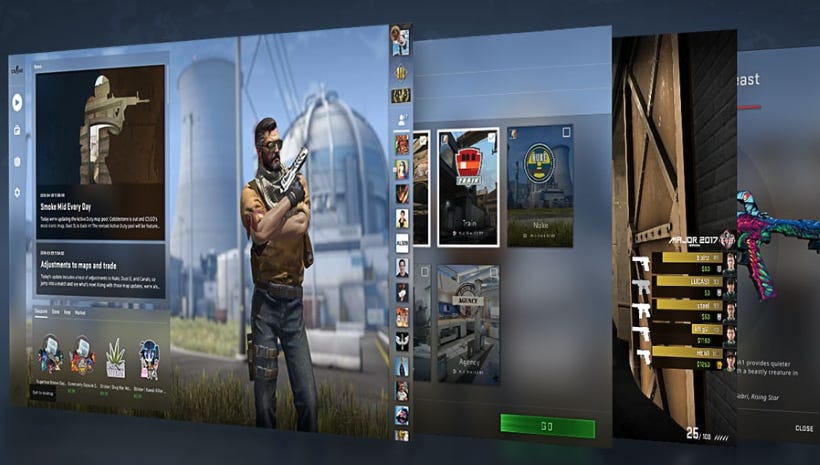 A little earlier on this year Valve released a beta re-work of the CS:GO interface called Panorama. Improving on all aspects of the user interface, it provides slicker viewing of models, an enhanced navigation process, and plenty more besides.
In this article we explain how to activate or disable Panorama, and provide a handy video which outlines all of the benefits of the new system so you understand what's changed.
As this new UI system is updated over time, so we'll update this article.
What is the CS:GO Panorama update
The Panorama update significantly improves all aspects of the classic CS:GO interface. Here's a video that does a neat job of showcasing all of the new elements.
Overall the Panorama UI makes the game a lot more welcoming for new players, and just a little less clinical than the game's original interface was.
How to activate or turn on Panorama in CS:GO
The process for activating the beta of Panorama in CS:GO is actually pretty simple. Just follow these steps and you'll be up and running in no time:
1. Find CS:GO in your Game Library
2. Right click on the game entry, then scroll down and select Properties at the very bottom of the drop-down box
3. Once you've selected Properties, click on the box towards the bottom called Set Launch Options
4. Enter the following text into the box that appears: -panorama
5. When you next fire up CS:GO, you'll find that you are making use of the Panorama UI
More popular CS:GO guides:
How to disable or remove Panorama in CS:GO
Panorama is no longer an optional part of the CS:GO experience. In the beta, however, you could remove the Panorama UI from your CS:GO experience. The options were really quite easy to follow:
1. Navigate to CS:GO in your Steam Game Library
2. Right click on Counter-Strike: Global Offensive
3. Select Properties at the bottom of the drop-down list
4. From the General tab click on "Set Launch Options"
5. If Panorama is activate, you'll see -panorama in the box that appears
6. Delete the text and then click OK
7. The next time you load CS:GO you'll see that the Panorama UI element is no longer active in the game