Cyberpunk 2077 looks wild in its E3 trailer
Jack me in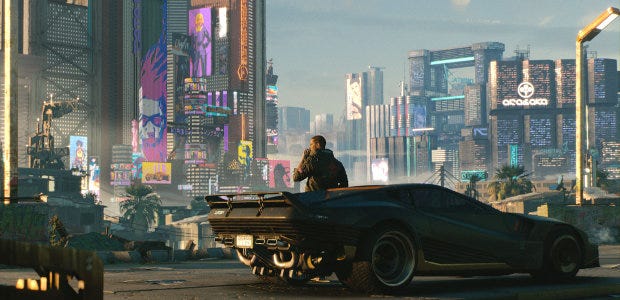 I've been waiting a long time to see more from Cyberpunk 2077, the next RPG from The Witcher devs CD Projekt Red, and daaamn. Today they gave us a whistlestop tour of its city in the game's E3 trailer, and it looks weird, wild, and a place I'd very much like to visit. Night City is crowded, colourful, vibrant, and full of terrible things for most people but the shining high-life for a select few. After years of waiting, I am p. dang excited for this one now. Watch the trailer below.
I know, right? I like so much that it sticks to old vision of the future from the original Cyberpunk 2020 tabletop RPG and other 80s cyberpunk, with blocky gleaming metal cybernetic implants, gas masks, mohawks, cowboy hats, and that dang car.
Sure, it doesn't show anything solid of the game, but these designs... ah, sorry, I need to wrap this post up because I want to enjoy watching the trailer another few times.
Still no firm word on when Cyberpunk 2077 will launch. I expect CD Projekt Red will gab more about the game during E3 next week. For now, you can sign up for a newsletter on its site.
Check out our E3 2018 tag for more announcements, trailers, news, and goodness knows what else.