Dark Souls: Remastered is out now – and it's already got an infamous hacker
He's gone hollow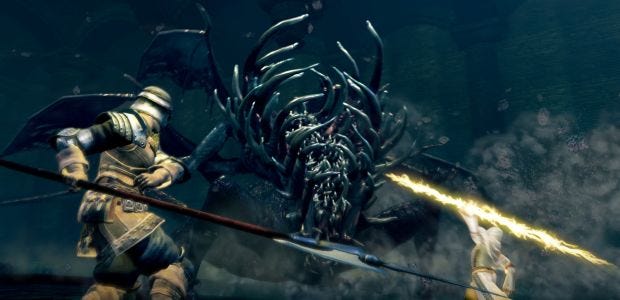 Crack open a nice cold soul, fans of permanently holding up a shield while you walk. Dark Souls: Remastered has been released on Steam today, a day earlier than we'd believed. The original Prepare to Die Edition was pulled from sale two weeks ago, so if you didn't buy it then, this is now your only PC doorway to popular resort town Undead Burg. The Remastered edition is half-price for those who already own the old version. But the changes are minor, and there's a more unnerving problem. Players are under attack from a notorious hacker, a dark spirit who invades worlds and corrupts the save files of innocent undeads.
That hacker goes by the name Malcolm Reynolds, and you may recognise that username if you're a Soulsist. In Dark Souls 3, he was a hacker who invaded or joined people's worlds, attacking them with a modified weapon that would transfer souls to all those stabbed. Far from being a philanthropic redistribution of soul wealth, this causes the game to detect and register the receiver of the souls as a cheater. The player will then get a message saying "Invalid game data", essentially corrupting and ruining that save file. This is what they call being "softbanned".
And would you look at that: Malcolm is already doing the same thing in Dark Souls Remastered. This time he's throwing a horrible cursed fireball at people.
Awful. If you see the name Malcolm Reynolds show up as an invader, the best thing to do may be to Alt and F4 your way to safety lickety split, or simply kill yourself before he finds you But the most solid advice is to regularly back up your save files. I first heard the dreaded legend of Mal during a visit to Dark Souls 3's fight clubs, and the advice players gave me was the same: back up your life.
There seem to be other technical issues with the remaster, according to the inevitable thumbs-down Steam reviews. Some people are unable to add the game to their Steam cart, while others can buy and download it fine. All very dispiriting. But it is still day zero here, and we haven't had a chance to see for ourselves yet whether it's [fart noise] or [happy cow moo]. On the face of it, it's a very minor set of improvements. You'll get the ability to use more than one consumable at a time, added password matchmaking, support for higher resolutions, and a higher number of players allowed on the same sorry plane of existence (a maximum of six). The old Prepare to Die Edition had frame rate problems and was a resolution nightmare, leading PC players to resort to Dsfix and other mods to make it bearable.
Anyway, it's on Steam for £34.99/$39.99 but slashed to £17.49/$19.99 for owners of the Prepare to Die Edition. And remember, if you see the dreaded Mal, don't try and fight, don't try and run. Just pick a fatal ledge and roll into the safe embrace of death.