Dead Rising Being Remastered And Coming To PC
Alongside Dead Rising 2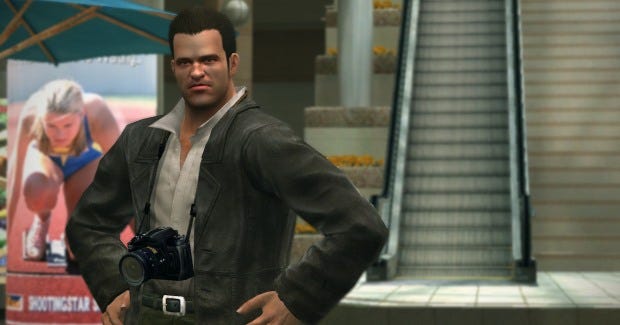 Dead Rising is coming to the PC for the first time, remastered alongside Dead Rising 2 and Dead Rising 2: Off The Record as part of the series' ten year anniversary celebrations. All three will be released on September 13th and there's a Steam page to prove it.
This might get complicated. Dead Rising 2 and Dead Rising 2: Off The Record are already available on PC, but this remaster should bring improved graphics targeting new generation consoles like the PS4, XBox One, as well as the PC. Dead Rising 2: Off The Record was also a kind of remake of Dead Rising 2, replacing the game's protagonist Chuck Greene with the photographer protagonist form the first game, Frank West, as well as reintroducing all the first game's camera mechanics.
Dead Rising 1 meanwhile has never been on PC before - and it's exciting that it's coming now. Where Dead Rising 2 (and eventually 3) embraced the kill-zombies-with-silly-objects action of the first game, they jettisoned or watered down much of what made it interest. The first Dead Rising was about exploring a shopping mall as a photojournalist, with missions based around taking photographs and only 72 hours to explore and experience the story before you had to evacuate. It was a kind of replayable, narrative-driven Pokémon Snap, with zombies you could satisfyingly bop with baseball bats and really terrible controls and boss fights.
The remake includes a new save system, support for higher resolutions, an unlocked frame rate, and customisable keyboard and mouse settings. If Capcom do as good a job with the port as they did with Dragon's Dogma: Dark Arisen, I'll be happy.