Risk of Rain Team Return With Deadbolt
Death's going to find you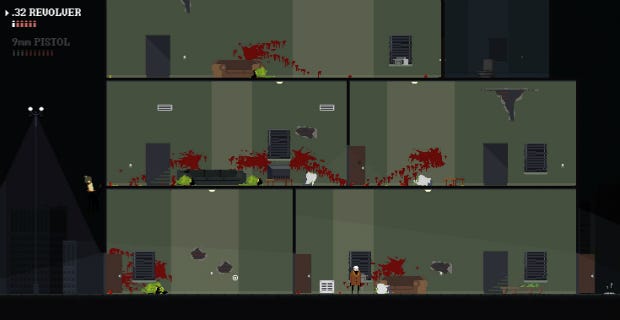 When we first looked at Deadbolt [official-ish site] last year, we called the freebie "a side-scrolling version of Hotline Miami with bits of Gunpoint thrown in." A year's worth of gaming later, I'd toss Not A Hero into that comparison. Since then, developers Hopoo Games - the folks also behind Risk of Rain - have worked on expanding it into a full commercial release. Now they've released its debut trailer:
The premise: The undead are being all inconveniently not dead, which obviously reflects poorly on you as the Grim Reaper. Your job is to kill them all. Again.
It looks to be equal parts action and stealth/planning, as per Not a Hero/Hotline Miami. Go in guns blazing like the Ghost of Rambo Past or maybe fly out of a toilet to kill particularly unlucky individuals. A little urine can't stop the Grim Reaper. When it's your time to go, he'll find you.
Best of all, the game's not too far off. Steam lists Deadbolt as a Q1 2016 release, so presumably we'll be scaring the literal piss out of zombies by the end of March.