Death From Below: Silent Hunter Online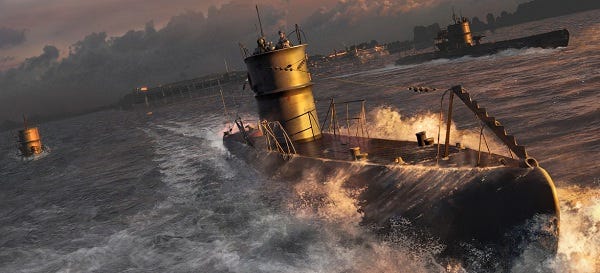 It's only a matter of time before every game is released for free and not long after that, people will realise that in many cases that 'free to play' aspect is a little like a shop not charging admittance. There may still be a bouncer on the door, his fists like cans of spam, checking that you have a stable internet connection before he lets you inside. Silent Hunter Online is free to play and the title suggests it has a preference for the connected consumer. Despite that, I'm intrigued because I've spent some of the most deliciously tense hours of my gaming life pretending to be the Atlantean captain of a submersible murder machine. Radar detects an irrelevant cinematic and more details in the depths below.
That really doesn't tell us a huge deal, other than drawing attention to the murderous bastardly nature of submarines. Surely there's a way that such a trailer could be improved.
That's the ticket.
Developed by Blue Byte, the game will be browser-based, although with full 3D explodeffects as well as the (probably) far more useful maps. My interest is held by the promise of a dynamic campaign, covering the 'Battle of the Atlantic', in which the actions of each player contribute to the strategic shape of the seas.