Destiny 2's open beta: what to expect
Beta late than never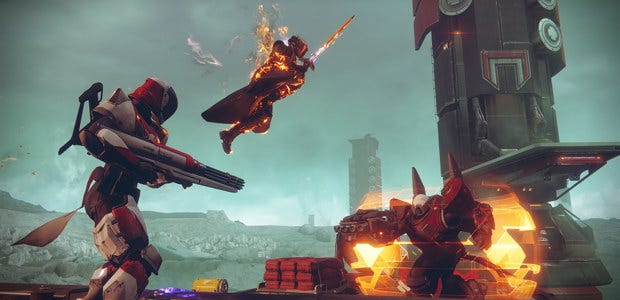 In "That Wizard Came From The Moon: The Sequel" news, there's a Destiny 2 [official site] trailer detailing what players can expect from sci-fi FPS's upcoming open beta. It looks like it's a chance for a load more people to get their hands on the stuff journos got to play at E3, so the opening of the story campaign, the co-op Inverted Spire strike and a splash of PvP.
Take a look:
It's very much one of those trailers which just smacks you in the face with snippets of footage lasting about a second each. It's like having MMO muesli poured into your eye sockets and needing a few moments to blink the crunchiness back out and figure out what you just watched.
I'd say it's essentially just a really condensed highlights reel of all the stuff they've shown up to this point which fits with the fact the beta seems to just be access to that known stuff. Here's the full list:
Homecoming: The opening mission and cinematics from Destiny 2's Campaign.

Countdown: Enter the Crucible to battle other Guardians in a brand new mode. Attack or Defend the base on a new map custom-built to support this new game type.

Control: The original standard for Crucible combat is back, with some impactful changes. Control the zones on another new map built with this objective in mind.

The Inverted Spire: Strike at the heart of a Vex stronghold. Bring two willing allies, or let Matchmaking introduce you to a Fireteam of Guardians.

New Subclasses: The new fighting style for each Class will be at the ready. Choose from the Dawnblade Warlock, Arcstrider Hunter, or Sentinel Titan.
CONTROL! CONTROL! CONTROL! :D
There's also a bunch of stuff NOT to expect:
Clan Support: It's true that Clans will be supported in Destiny 2, but those features are not a part of this test.

Character Progression: You'll receive rewards for defeating your enemies – be they Cabal, Vex, or other Guardians – but the Beta does not represent how your characters will evolve in Destiny 2.

Character Continuity: Destiny 2 is a fresh start. Nothing we do in the Beta will carry over to the final version of the game on September 6. Of course, for every rule, there is an exception…
That exception is a beta emblem which is just a badge you can equip to lord it over other people with your early adopter skillz and say "you weren't there, man" if anyone asks about it. I have alpha and beta emblems in a bunch of games including Heroes of the Storm and possibly Smite. Literally no-one has ever asked me about them or expressed any interest in them at all but hope springs eternal.
Obv the PC release of Destiny 2 comes later in the year than the console versions of the game and that holds true for the beta periods too.
There's a beta early access period (that's the one where you need to have pre-ordered to get the earliest possible time with the game) 18-20 July on PS4, 19-20 July on Xbone, then open beta (for non pre-orderers) 21-23 for both, while the PC early access and open beta will be in August. ALL OUR USUAL CAVEATS ABOUT PRE-ORDERING*.
There's also a kind of load-test hour for the new social space, The Farm, which takes place from 10am PST on 23 July and will let players investigate the area while Activision see how many players it can handle. There are chickens and football. I fear nothing good will happen to the chickens and I suspect every single player will try to see if they can push a chicken into the back of the net instead of using the football. I assume that hour is console-only but the info in the video will hold true across versions.
The game itself is expected 6 September for consoles and 24 October for PC.
*Which is very much a do-as-I-say-not-as-I-do in this case as I keep meandering towards the blooming pre-order button and now there's an opportunity to play Control early.