Destiny 2 PC open beta starts August 29
Destiny's Child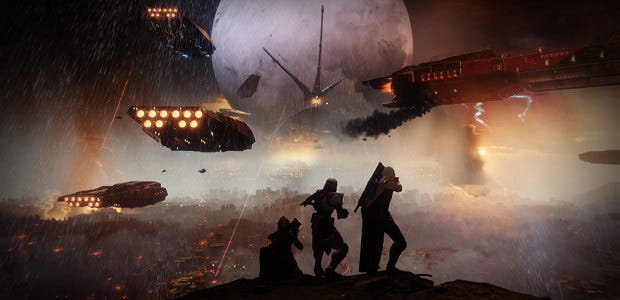 Bungie have confirmed that Destiny 2 [official site], the online hangout and dancing social space with an attached MMO-FPS, will launch its PC open beta on Tuesday, August 29. That'll run until Thursday, August 31. If you've wondered what consoleers have been on about these past few years -- and what Adam enjoyed so much when he played at E3 -- you'll be able to find out for free. Bungie have also confirmed tentative PC system requirements so you can figure out if you'll be able to run Destiny's Child.
Consoles already held betas earlier this month but, much like the full game's release, ours is held back.
The beta contains one story mission, two PvP modes with two PvP maps, and one cooperative mission. The console beta offered one hours' access to the social space -- the heart of the game, as I understand it -- and presumably that'll happen for us too.
Check your specs:
Recommended Spec

CPU
Intel - Core i5-2400
AMD - Ryzen R5 1600X

GPU
Nvidia - GeForce GTX 970
AMD - Radeon R9 390

RAM
8GB

Minimum Spec

CPU
Intel - Core i3-3250
AMD - FX-4350

GPU
Nvidia - GeForce GTX 660 2GB
AMD - Radeon HD 7850 2GB

RAM
6GB
Bungie do note that those aren't the final specs, and the system requirements could change for the full launch.
Destiny's Child is coming to PC on October 24. People who pre-order will get beta access one day early, on August 28, but I'm sure you know better than that.