Deus Ex Mankind Divided: Gameplay Footage, New Project Reveals From 4.30pm
From Adam with love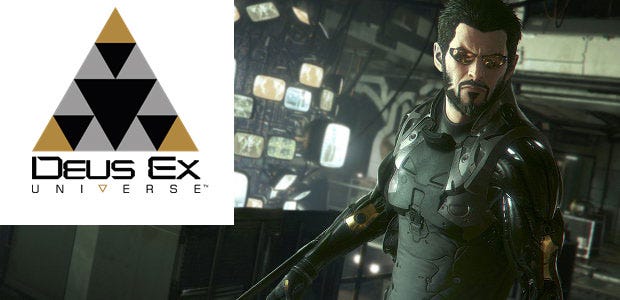 I have never played more than five minutes of a Deus Ex [official site] game, but I do find the transhumanism and the artwork fascinating. I also had a dream pretty recently about Adam Jensen where it turned out that instead of being a modified human he was actually a secret bee with all these insecty body mods.
His sunglasses were actually his compound eyes and he had a weird stabbing wing that he could shoot out of his arm and pin people to walls with what was inspired by the foreleg of a praying mantis. I think he might actually have one of them in the real game but not from a mantis, more from some kind of galactic hypertriangle or something. He also slept in a hive and was often covered in honey. LOOK IT WAS A DREAM I DON'T KNOW.
Anyway, I feel like that's as decent a set of qualifications as you need for writing a post explaining that you can watch the Deus Ex Universe pre-E3 livestream thingummy here from 4.30pm BST.
Watch live video from DeusEx on www.twitch.tv
So what might this involve? Well. Apparently the Deus Ex Universe is expanding and thus this livestream will offer insight into what the expansion involves - new projects and the like. It also definitely involves 18 minutes of gameplay footage from Deus Ex: Mankind Divided:
"Get a first glimpse at the city-hub of Prague in Deus Ex: Mankind Divided, an expansive and dense location which will allow players to meet a variety of characters, take on side-quests and explore inside and outside areas."
I've just checked Time Out and Trip Advisor and I feel like exploring inside and outside areas ought to have you take a trip to the Loreto:
"This Marian pilgrimage site with the Baroque Church of the Nativity and a replica of the Holy House is surrounded by cloisters and chapels. In the tower there is a 27-bell carillon that plays the Loretan Marian song "A Thousand Times We Greet Thee" (every hour from 9 am to 6 pm). The Loreto treasure consists of a rare collection of liturgical objects from the 16th to 18th centuries, the most famous of which is the "Prague Sun", a monstrance encrusted with 6,222 diamonds"
There are also segway tours of the city. I feel like Adam Jensen would be a segway sort of person.
No word yet on whether any of this involves secret bees.