Deus Ex: Mankind Divided Gets Patch And DirectX 12
DX gets some DX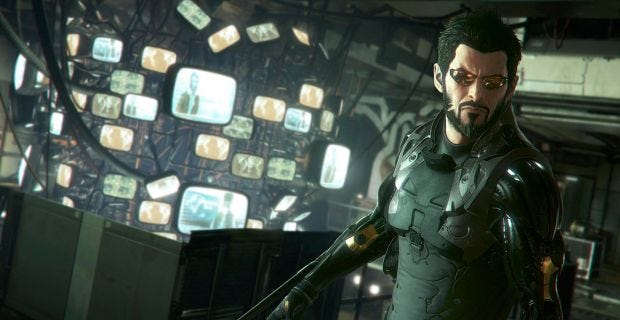 Following the release of Deus Ex: Mankind Divided In Unsubtle Ways [official site] many players have been struggling with stuttering, freezing, crashing and general technical problems. But Squeenix and co have been patching away, trying to exterminate all the problems and get the thing looking as shiny as a pair of edgy 90s sunglasses. The latest patch does some more of that. Perhaps more importantly, the developers are also introducing support for DirectX 12, which may or may not fix all your problems. It's only a preview build though, so come with me to find out how to apply the update.
The fifth patch so far focuses on "critical issues that were reported by users during the last weeks after release." Freezes and "massive stalls" have been fixed, say the patch notes, as well as some general UI issues and a weird bug that would take input control away from players when hacking some terminals.
Meanwhile, the DX12 support can be added to your game by doing the following:
Within your Steam Library, right-click on Deus Ex: Mankind Divided.
Select 'properties' from the context menu and navigate to the Beta tab.
From the dropdown menu, select dx12_preview then close the window.
When the download is done, you can toggle the use of DX12 from the in-game options, or the pointless game launcher if you haven't already disabled that. This is still a preview build, however, and Square Enix say that it will not produce better performance for everyone who uses it. Make sure your drivers are up to date, they say, and know that you can always disable it easily if it causes problems.
I've left Prague behind after reaching the game's ending, which was awful in the typical way of videogames – abrupt, dumb and frustrating. But I enjoyed prancing around the city in my long coat, stealing all the hacking software from houses that was still, inexplicably, on physical disks. What about y'all? Have performance problems stopped you from getting that far? Or have you knocked out all the police and hidden them behind the bins?