Diablo III: Reaper Of Souls Beta (Kinda) Begins
Tester of souls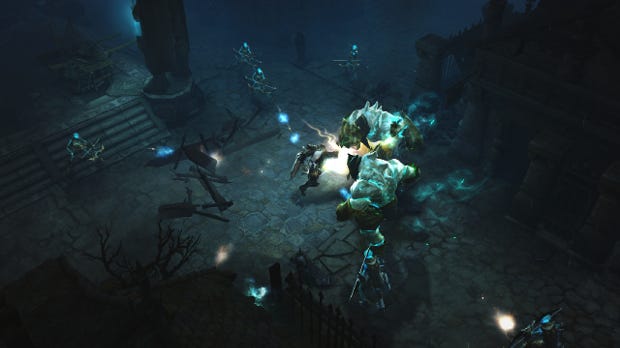 Every time I write about Diablo III: Reaper of Souls, I cannot resist the urge to blast "Don't Fear The Reaper" by Blue Öyster Cult. Then I begin having flashbacks to the original Prey, a game that, incidentally, made me far happier than vanilla Diablo III. But hey, seasons don't fear the Reaper seems to be kinda on the right track, so that's encouraging. Now, though, it's time to keep it from catching aflame (or going up in smoke; I forget how it works in Hell) and careening madly off a cliff by lending a hand during the game's beta phase. It just opened up to Blizzard's friends and family (and also "valued media contacts and key members of the Blizzard community"), but others won't have to wait too terribly long to take a crack at it. An invite-based closed beta will kick off before the year is out.
Here's the plan, per Blizzard's big bad beta buh-announcement:
"Our Friends and Family Beta is just the first step of public testing, and by the end of the year we will be moving into Closed Beta. Since our Reaper of Souls Closed Beta test will also feature all content in the expansion (again, excluding the final boss fight), invitations will be extremely limited. However, we'll continue handpicking community members to invite to the Closed Beta and bringing in additional players through opt-ins to ensure that all of our features like the Crusader, Mystic, and Adventure Mode get the testing they deserve."
When the Reaper of Souls closed beta begins, Blizzard will also roll out patch 2.0.1 to the public test realms. That'll give everyone - you, your grandmother, your cat, Kanye West - access to Paragon 2.0, Loot 2.0, a new difficulty system, clans, communities, and re-balanced classes. So hurrah for that.
If you want to put your name in the Unnecessarily Spiky Hat Of +17.5 To Early Access-ness for closed beta, simply log in to Battle.net and opt in via your Beta Profile Settings. By no means does that guarantee you entrance, but it's probably still worth a shot.
So there you go. Oh, did anyone make it into the friends and family phase? If so, it's worth noting that you're not under any sort of NDA. Let loose with your impressions. May they fly straight and true.