Diapers Advised: Serious Sam 3 Trailer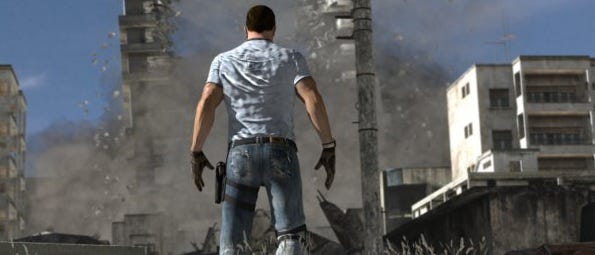 How many trailers manage to accurately convey a design philosophy while also being pretty damn funny? I've done some swift calculations on my abaci and mathomancy tells me that the correct answer is this one for Serious Sam 3: BFE. Despite pouring scorn on so many modern gaming conventions, the whole thing is so gleeful that it doesn't seem spiteful, just completely and incurably insane.
The video says episode 1 and I'll be very happy to see more of this helpful chap before the game's release on October 18th. Marketing is not supposed to be this much fun.
Lest anyone forget, indie side-scrolling Sam 'em up, Serious Sam: Double D, is already out. John posted his impressions of the first two stages back in July and we'll have more detailed thoughts on the full version very soon. If you need just a little more adrenalin to get through the remainder of this bleak and unforgiving Monday, there's a launch trailer for Double D below.