Dirt Rally 2 splatting into February 2019
Parp parp!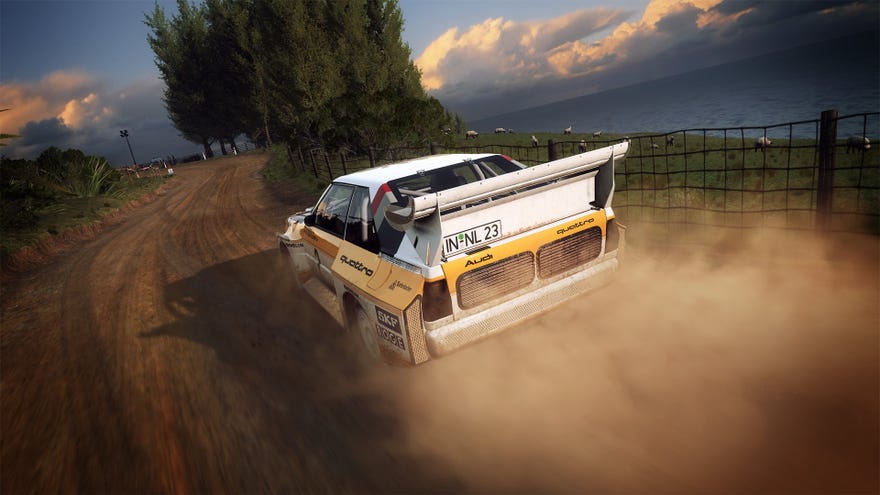 Mud! Mud! Glorious mud! Nothing quite like it for cooling the petrol. Always happy to wallow in the hollow, Dirt developers Codemasters today confirmed a return to the sim-ish side of their mucky racing series, announcing Dirt Rally 2 for launch in February 2019. Or 'DiRT Rally 2.0', if you're the daft gits in charge of naming these things. Here, come watch the announcement trailer for some grubby cars.
While the core Dirt games are vaguely arcade-ish (compared to some drive 'em ups), Codies swerved back towards simmy driving with Dirt Rally in 2015 before returning to their path with Dirt 4 in 2017. Next, more simswamp!
Codies are a bit vague on what's different in this new game, but expect new cars reflecting the current WRC season (obvs) along with new prettiness and "new authentic handling model, tyre choice and surface deformation." In the absence of more details, quotes!
"Rally is incredibly important to Codemasters and the entire team is absolutely dedicated to creating the most authentic experience possible in a game," chief game designer Ross Gowing said in today's announcement. "Our passionate, knowledgeable community helped to make DiRT Rally a special title. We have been working with a selection of that community alongside a roster of real world rally drivers to ensure that we meet their high standards."
He added, "We are not afraid to make a challenging game. Driving a rally car down a stage is not easy and we want players to experience that same adrenaline rush from driving on the edge."
We'll surely find out more as the marketing campaign rolls on. DiRt RaLlY 2.ohhhhhhhh is slated to launch on February 26, 2019.
For now, Codies are celebrating this news with a sale. 75% discounts available until Friday bring the first Dirt Rally down to £6.24/€8.74/$9.99 on Steam and Dirt 4 down to £11.24/€13.74/$14.99.