Dirrty Enough: Dirt Rally Skids Out Of Early Access
It's dirty enough now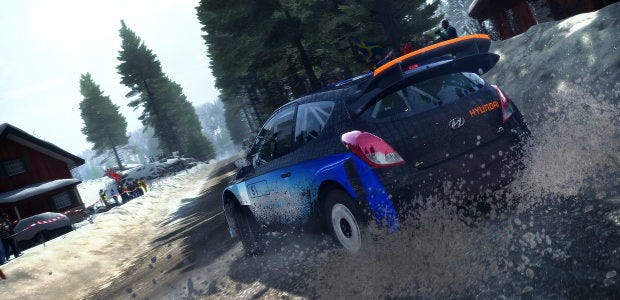 How dirty is dirty enough? Two Rs, says Christina Aguilera, and she's a judge on The Voice so she should know. After seven months in Steam Early Access, skidding through mud and gyrating against pine trees, the racing game now known as Dirrt Rally [official site] has properly launched. It screeched out with a big update too, with a wintery track set in Sweden. Codemasters seem very proud of their snow physics. I'd expense a trip to roll around in the snow if I could too. Horace, do we have room in our budget for a trip to Sweden? It's vital to my understanding of this news post.
Dirrt Rally is £28.04 on Steam. The patch notes for that launch update also include shiny newness like Steam Workshop support for car setup and haptic feedback, for folks who are happy to let others fine-tune their rides. Anywho, here's what Codies say about the new Swedish stages:
"These snow-filled stages are known for their snow banks and Codemasters has pioneered new soft edge tech that simulates the density of snow. As a result, players can now lean on the snow banks when pushing for those stage records."
Soft edges. Very good. Very safe. Health and safety and all that, yeah?
A PC retail release is also coming on April 5th, launching alongside console versions. I'd be surprised if that's much more than a pretty DVD to accompany a Steam key, mind.
Skidmarks. Those are dirty. Cars make 'em too. That'd be a double entendre if I'd tried.