Door Kickers getting a side-scrolling spin-off
Retro vibes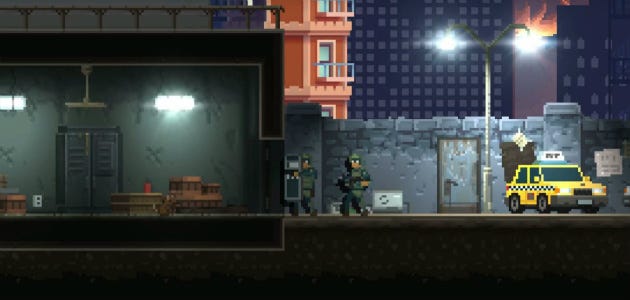 KillHouse Games has teased a side-scrolling, retro spin-off to Door Kickers, officially the best top-down tactics game of 2014. It's called Door Kickers: Action Squad [official site], and it's being co-developed by KillHouse and Pixel Shard, whose only previous title is a match-three game called Yummy Dreams: Jelly Rainbow. Quite a change of scenery, then.
It looks like it's trying to inject some humour into the tactics, and the teaser trailer genuinely made me laugh. It shows two players side by side battering down a door in full S.W.A.T. gear only to find a lone rat inside. And then, well, watch it to find out.
The game is due out in early access by the end of September, and we'll no doubt see some more later this month because it's being shown off at Gamescom, which starts on 23 August.
There's no information on the premise or even what the game will involve, but if the team can balance the flash-banging, head-shotting action of Door Kickers with humorous moments then they'll likely be onto a winner.
Still no news on Door Kickers 2, sadly: it was meant to hit early access last year but engine troubles pushed it back.