In The Trees - Dragon Age: Inquisition Story DLC Released
Enter the Jaws of Hakkon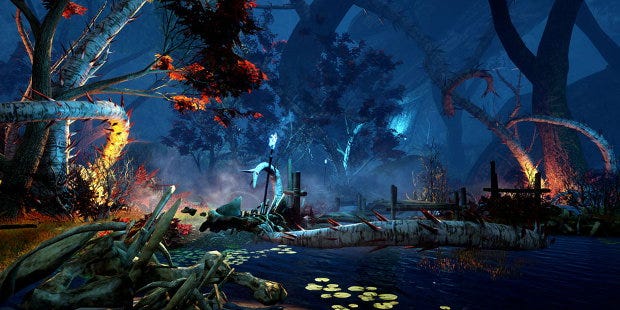 Video game forests: yes, more please, thank you. Big trees, dappled sunlight, ferns, moss, lichen, wild flowers, and hidden ponds: ooh twist my arm.
BioWare released the first singleplayer DLC story hunk for Dragon Age: Inquisition [official site] today and while I understand there's something about Inquisitors and dragons in it, the real take-away is that it has a big forest. With ferns, tree houses, mystic groves, ancient ruins, some huge cliffs with waves crashing at the bottom, and something about an old god and ice dragon, 'Jaws of Hakkon' is on Origin for - cripes! - £11.99.
As clearly I'm unable to focus on anything other than the scenery (in truth, I think too much of the forest has dreary desaturated tones, and I'd rather it were all far more moist and mossy), I'll quote the marketing spiel to explain what Jaws of Hakkon adds:
"Discover the fate of the last Inquisitor and the powerful dragon he hunted. Enter an overgrown wilderness filled with Avvar, fiercely independent hunters who settled in the southern mountains of Thedas. Explore their culture to uncover what happened to the last Inquisitor and the dragon he pursued. Find an ancient Tevinter fortress that hides a dangerous secret. In this new adventure, playable within the Dragon Age: Inquisition campaign, you will face powerful foes, gain legendary armour and weapons, and confront an ancient god of war bent on destroying the world."
Like I said: a big old forest.