Dragon Age: Inquisition MP Gets Easier, More Difficult
Sweet dream or beautiful nightmare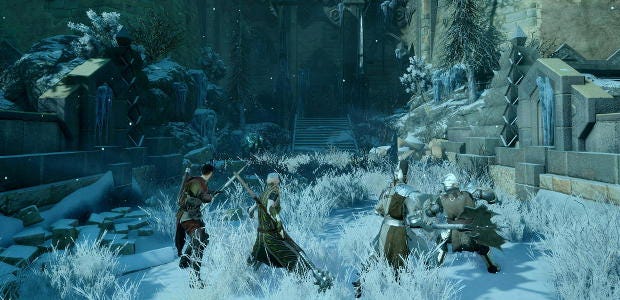 If you've mastered the multiplayer side of Dragon Age: Inquisition [official site], killing everything and saving everyone a dozen times over, good news: the game's latest update has added a new 'Nightmare' difficulty setting to tackle and new rare weapons to collect.
Conversely, if you've barely scratched Inq's multiplayer and find it a bit overwhelming, good news: the update also added a tutorial, which teams you up with AI characters on a guided experience through your first adventure.
BioWare explain in a blog post:
"The Proving Grounds begin with a guided experience to help you familiarize yourself with multiplayer. A team of AI-controlled agents will accompany you on your mission—at a reduced difficulty level to introduce gameplay mechanics without leaving you feeling overwhelmed.

"Once you've completed the tutorial, you can come back to the Proving Grounds at any time to practice."
Update 8 also fixed a few small bugs, so do hit the patch notes if you're curious.
How is Inquisition's multiplayer, by the way? From the outside, it looks a bit like a mission-ified version of Mass Effect 3's multiplayer, which I ended up playing far more of than I'd expected I would. I still haven't picked up Inq, though; it arrived at a time when the last thing I wanted was a huge sprawling open-world game. So how is it?