3D Realms & Gearbox End Duke Nukem Legal Battle
Finally, Duke can rest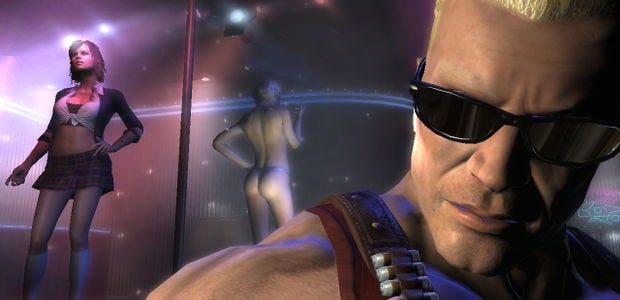 A lot has changed in video games across my six years as a professional words person, but Duke Nukem has always been a shambles. In uncertain times, I knew I could always glance his way and groan "Oh no what's happened now?" I feel a little lost now the legal troubles between old owner 3D Realms and the new Dukelords at Gearbox Software have wrapped up.
Gearbox, 3D Realms, and 3DR owner Interceptor Entertainment have issued a joint statement declaring they've voluntarily ended all the litigation, and that Gearbox are "the full and rightful owner[s] of the Duke Nukem franchise."
Folks snooped court documents to this effect a while back, but it wasn't clear if that'd be the end of it. It is, so I hope this is the last time I ever have to recap this. Right!
So! 3D Realms all but shut down in 2009 while making Duke Nukem Forever. Borderlands folks Gearbox bought the Duke Nukem franchise off them and finished DNF (it was rubbish). Things went quiet until 2014, when 3D Realms teamed up with Rise of the Triad rebooters to make top-down shooty RPG Duke Nukem: Mass Destruction. Gearbox hastily responded with a lawsuit saying "Er, mate, we own Duke Nukem." A few weeks later, 3D Realms was sold sold to Interceptor and claimed they did have a license for one last Duke game, Duke Nukem Survivor - supposedly the working title for an old game that became Mass Destruction. Gearbox disagreed, and on the rumble rumbled.
3D Realms CEO Mike Nielsen said in yesterday's joint statement:
"When Interceptor acquired a license to develop 'Duke Nukem Mass Destruction' ('Duke Nukem Survivor') from 3D Realms, we did so in good faith and were not aware of any conflict. We never intended to cause any harm to Gearbox or Duke, which is why we immediately ceased development after Gearbox reached out. To secure the future of Duke, 3D Realms has agreed with Gearbox that a single home serves the IP best. And as big Duke fans, we're excited to see what Gearbox has in store for the 'King.' As for our own games, we're eager to complete development of the 'Bombshell' game and get it in the hands of our fans."
Bombshell appears to be a game Interceptor hastily salvaged from Duke Nukem Mass Destruction, swapping in a new female lead. It looks a bit dull.
Interceptor CEO Frederik Schreiber also took this opportunity to make clear a little history. Before Rise of the Triad, the studio had been working on a fan remake of Duke Nukem 3D, named Duke Nukem Reloaded. Gearbox gave them the legal all-clear, but Interceptor placed it on hold and wandered away. Schreiber yesterday said:
"I want to make it clear now, once and for all – It was my own decision to pull the plug on Duke Nukem Reloaded, even though we were fully allowed to continue development. I respect Gearbox for supporting a young developer, and I'm glad we can now put this behind us."
I hope this will be the last Duke Nukem history lesson I ever give.
As for the future - ye gods! - Gearbox head honch Randy Pitchford has been sighted honking about the possibility of a new Duke Nukem game.