Eric Chahi Says Originality Is Coming Back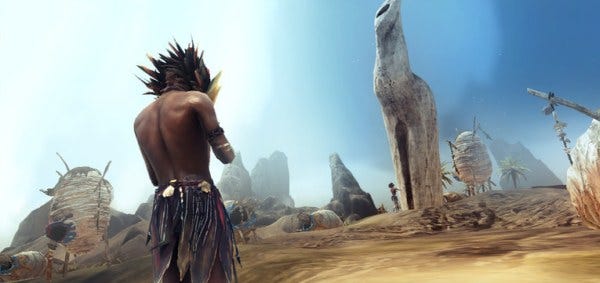 Another World developer and all-around quality Frenchman Eric Chahi (currently hard at work on download-only God game From Dust, pictured above) has said in an interview with CVG that he believes originality is returning to videogames after a hiatus of some seven years, arguing that digital distribution has brough innovative games back to the masses. You can read the full quotes below- I agree with him for the most part, but think he's a bit off with a few of his dates.

Here's what Mr. Chahi had to say-
"Today we have more creativity than some years ago - maybe seven years ago. 2000 to 2003/4 was really a time where there was no independent scene, there were few risks - it was very rare.

But digital distribution, which started on PC then later on the console, was a really, really major step that saw originality coming back...

...We think that around 2000 there was no place for small games, there were big games with big prices - a lot of cost and a lot of cost means we want a level of profitability, it was difficult..."
Whereupon international product manager Guillaume Cerda added that when you can't take risks, it results in a lot of the same kind of game. "Shooting, etc." On the subject of the point Cliff Bleszinski made at GDC that games are currently polarised into high budget AAA titles and low budget indie games, Chahi said that he didn't see the increasing of indie game budgets as a goal worth chasing, because the less of a budget something has, the more creative freedom the developers have.
Eric went on to explain that one of the reasons he left the games industry was that he wanted to spend just one or two years developing a game, but until recently there was no opportunity to do that.
While I mostly agree with him, I don't believe AAA gaming had lost its creative mojo by as far back as 2000. On the PC side alone, the year 2000 saw the release of Giants: Citizen Kabuto, No One Lives Forever and Sacrifice, some of the most dangerously eccentric AAA games ever made. While it's true that there was almost no independant scene back then, I don't know if developers learned not to take risks until much later.
Tell you what, though. From Dust should be a great time, and it's due out this Summer. When I saw it back at Gamescom it was looking great, and it's only looking prettier and prettier. Here's last year's trailer. Make a new one soon, Eric!