Euro Truck Simulator 2 revisits Italia next week
Autocarro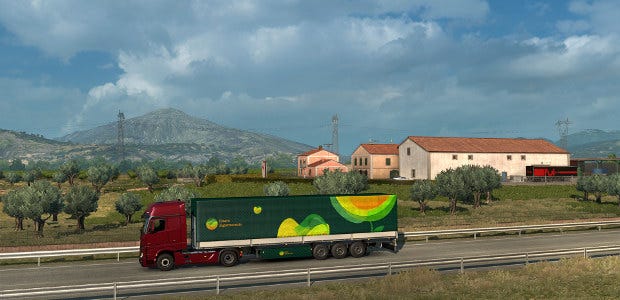 While my trucking dreams took me to the big skies of American Truck Simulator, some still follow roads closer to home. Euro Truck Simulator 2 will revisit Italy in its next paid add-on, expanding and revamping the country. That will launch next Tuesday, the 5th of December, developers SS Software announced today. Perhaps, as our country tries to hack itself off Europe (accidentally severing several fingers with a Stanley knife and pulping its toes with a fumbled hammer in the process), Europe will seem fancier and I'll soon find myself dreaming of these lands. For now, have a look at Italia in this trailer:
Italia expands and fleshes out the region with more cities, more roads, more landmarks, and more unique local buildings, landmarks, cargos, and road styles. Previous country packs have focused on France, Scandinavia, and Eastern Europe. Part of Italy is already in ETS2 but the expansion will complete and revitalise the country.
SCS Software are also improving that old bit of Italy for people who don't buy the expansion. A free update will bring the existent Italy up to the quality of the expansion's additions, including rebuilding Milano from scratch.
In the middle of writing this post, I paused to visit the local Italian deli for more coffee beans and was dazzled by their festive display of candied and marzipan fruits. I now want to drive a truck around Sicily hauling a cornucopia of marzipan figs, bananas, apples, and watermelon slices. For Christmas.
ETS2: Italia will cost £13.49/€17.99/$17.99 when it hits Steam on December 5th, some time in the afternoon.