Europa Universalis IV waging war in another real castle when Grandest LAN Party returns
Good sirs,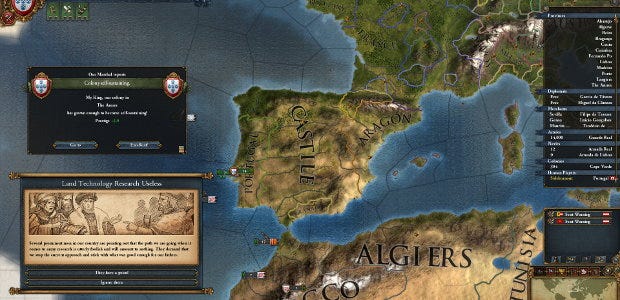 Power-hungry Europa Universalis IV players in capes and funny hats will stalk the halls of a Polish castle when the historical grand strategy game's four-day LAN-o-LARP event 'The Grandest LAN Party' returns in November. We sent our boy Brendy to last year's forty-person rumble, and his two-part report on the intrigue and drama of diplomats skulking around a castle and holding secret talks while their teammates played the video game still delights me. What a strange and wonderful event. EU4 devs Paradox and event organisers Dziobak LARP Studios today opened ticket sales, and if you're crafty and loaded you might fancy a look.
This year's Grandest LAN Party will run November 7-11th. It'll be a 32-nation Grand Campaign with 96 participants, with the game played for 12 hours per day but the scheming and meetings going on all the time. Having three-person teams mean that nations can send real-world envoys out to discuss, plot, and threaten other teams around the castle, and staff messengers are on hand to carry secret notes too. Around the game are buffet feasts, talks, events, and surely a large amount of boozing.
For its second run, the event is moving to the castle of Moszna. Tickets are €540, including room and board as well as transport to and from Berlin. See the event's site for more information and tickets.
Ah, Brendy's reports were grand.
"I'm eating soup with the ministers from Malaysia, Italy and Bavaria when the head diplomat of Mughal India comes to our table and starts talking about money again. His long black robe flows over his thin frame, a matching velvet cap on his curly dark hair.

"'The Ottoman have trade locked up,' he says. The Italian minster smiles. You can always trust a Mughal to talk about markets. Soon, all the world leaders at the table are speaking in impenetrable detail about world affairs – intricacies and intrigue, money and merchants. It's like sitting in a restaurant with the Illuminati. They smirk, they joke, they laugh. Tomorrow, they will be at war. Anywhere between 7-10 million people will die."
Good times. I don't want to go but do very much enjoy hearing about events like this.