Eve Online devs CCP being bought by Black Desert Online company
Prrrrobably not an Eve player's grand scheme?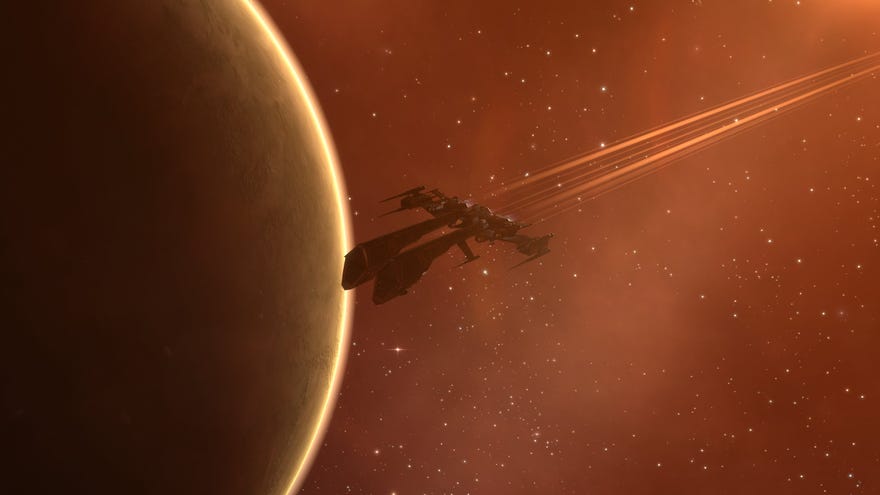 CCP Games, the Icelandic mob who make spacebastard sandbox Eve Online, are being bought up by the South Korean lot behind Black Desert Online (that MMORPG with the weird and wonderful character creator). Pearl Abyss are to pay $425 million (about £330m) for CCP, with the plan that CCP will continue to run and work on their own games while also lending their expertise to Pearl. Though perhaps it's too early to rule out the possibility that this is part of another grand scheme or double-cross from an Eve player seeking an advantage over their spacefoes, the most expensive yet.
The plan for the acquisition, according to today's announcement, is that "CCP Games will continue to operate independently as a developer with studios in Reykjavik, London and Shanghai, while integrating the company's extensive development and publishing expertise into Pearl Abyss' operations for all current and future projects."
CCP have cut off and sold a number of pieces of themselves in recent years. Following the final death of their World Of Darkness MMO, CCP sold White Wolf (with all their Vampire: The Masquerade and Werewolf: The Apocalypse and all that) to Paradox Interactive in 2015. CCP also sold their Newcastle studio (the one behind VR-focused shooter spin-off Eve: Valkyrie) to Sumo Digital earlier this year. They've pulled away from VR too. Now Pearl are buying the rest.
CCP do still comprise three studios, mind. Last we heard, they are still working on the new Eve first-person shooter spin-off codenamed Project Nova. And Eve itself, of course, which is still generating plenty of drama for even casual observers to enjoy (not to mention the editors of space newspapers).
"Pearl Abyss is a fast-growing company with lots to offer in terms of technology, capability and vision," CCP Games CEO Hilmar Veigar Pétursson said. "I believe our two companies have a lot to learn from each other. We are very excited to join forces with them and achieve great new heights for our companies, our games and – above all – our players."
Time will tell, as with all mergers - and all of business. It is at least promising that Pearl Abyss have made a decent game themselves, or so Steven Messner thought in his 2016 Black Desert Online review.