Black Desert's Character Creator Is Now Standalone
Liberated from the MMO bits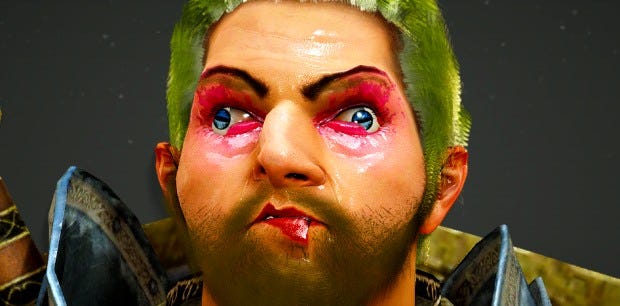 Black Desert [official site] is a Korean MMO that's prompted a surprisingly large amount of excitement from the MMO players I know. That's not entirely due to the character creator, but that is the main focus of my own interest, since it allows you to poke, prod, stretch and smooth each face in umpteen different ways, creating monstrosities like that above. Now you can do the same without needing to download the full MMO it's connected to, as the character creator can now be downloaded and used for free as a standalone thing.
The release of the character creator comes alongside dates for the second and final closed beta, which will take place on February 18th. If you pre-order the game you get guaranteed access to the beta, but don't do that because you don't know if the game is any good yet. Instead, come the beginning of February you'll be able to apply for a chance to access the beta for free.
When the game launches later this year, there'll also be in-game microtransactions available to further grease the moneywheels. A recent post on the game's forum broke down the kind of things you'd be paying for. It looks like cosmetic and convenience items can be bought with money alone, while those that affect mechanics more can be bought with either real money or a fictional currency (called 'mileage') earned through play. Hmm.
I experimented Black Desert during its last beta but didn't move any further than its character creator. I found that to be impressive, though perhaps less so than I'd hoped. There are a lot of customisation options, but even with the ability to tweak nose ridges a dozen different ways it feels as if you're dressing up a template rather than able to create something entirely new. The class of character you select will still ultimately determine the majority of how your avatar looks, with your tweaks either creating a broken monster or making minor changes to eyebrows.
Still, it's pretty, it's the most interesting part of the game to me, and unlike the game proper, you can download the standalone character creator now. Here's a trailer:
And in case you forgot: