Chain, keep us together: F1 2017 released
Running in the shadows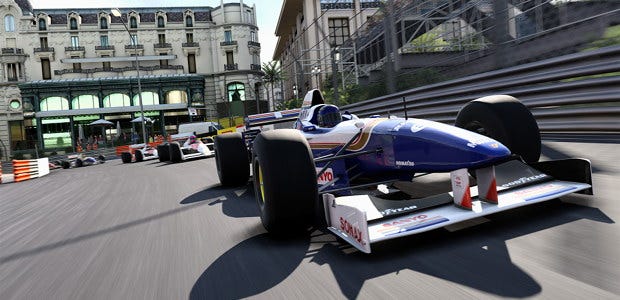 F1 2017 [official site], Codemasters' latest annual adaptation of The Chain by Fleetwood Mac, roared off the grid this morning. Once again, the avant-garde artgame uses fast cars to represent throbbing basslines and lyrical concepts such as running in the shadows, damning your love, and damning your lies. I can't say I feel Codies' interpretation in my heart own but hey, who am I to judge how a song feels to them? You can't say they don't commit to the metaphor, as they've released an update every year since 2009. And if you don't love me now...
Codemasters say they have "massively expanded" Career Mode for F1 2017, including adding female drivers, expanding the research & development system, and boshing in new 'Invitational' events with classic cars. The new Championship mode boasts "unique race events following different rules and structures from the official Championship in both modern and classic car". Also in are new classic cars, new alternative track layouts including Monaco by night, and multiplayer improvements including spectator spots.
I believe the spectators capture the feeling of a wailing guitar solo soaring above us.
F1 2017 is out on Steam for £44.99/54,99€/$59.99. It's on Windows and Mac, with porting peeps Feral Interactive handling the latter.
Here's a big lump of gameplay footage: