Florida gets even weirder in early slice of Fallout: Miami mod
Party in the city where the heat is on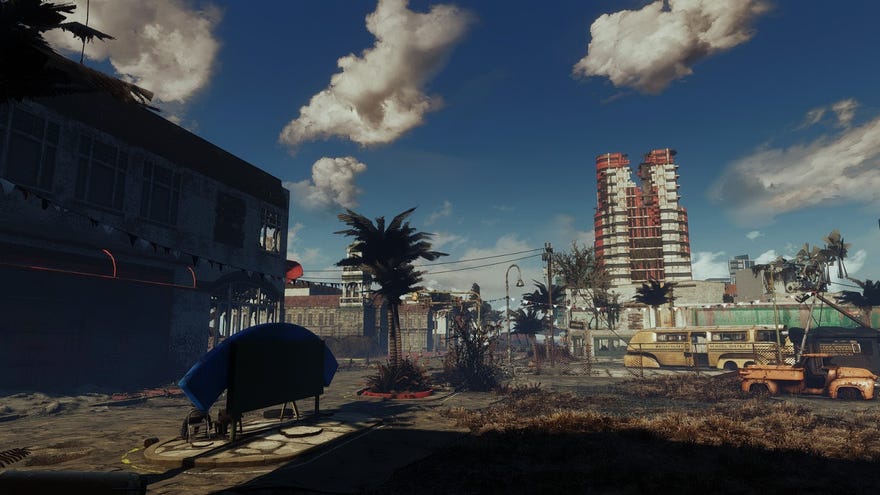 You don't need to play Fallout 4 for a vision of the USA as a post-apocalyptic wasteland filled with wacky characters and deadly critters; you can experience it for real with a visit to Florida. But a vision of post-apocalyptic Florida, oh boy, are you sure you can handle that? Best you ease yourself in slowly, perhaps with the newly-released early slice of the mod Fallout: Miami. It's a wee walking simulator at the moment, with no quests or NPCs, but do you really think you're ready to meet a post-apocalyptic Floridian? Take it slow, hit the beach, enjoy the palms, then see how you feel about confronting an irradiated Florida Man.
Fallout: Miami is to be a big ol' expansion-sized mod, exploring the new land of Miami Beach with new characters, quests, and such. All the glitz and glam of Miami given a hearty dose of radiation. The version released on Sunday by mod team member "Mika999" is far from the finished deal. It won't even appear in the final mod in this form.
Mika999 explains that this hunk of Miami is from an earlier version of the mod, when the team was smaller and Mika999 made most of the world. Now they're bigger, they're shifting development to a new worldspace so it can be better optimised from the start.
"But, because I'm so tied to my old worldspace, collective decision to move entire project to a new worldspace fell very hard on me, and I couldn't just leave it..." Mika999 explained. "So, I decided to make this download available for everyone and also for my personal use. Over time, I will try to update this early version and make it better for playing and exploring, so you can enjoy a little bit more while you are waiting for the official Fallout Miami to be done."
Mika999 plans to add a few NPCs and quests and bits to bring life to this early version. The main mod is still going ahead, still due to be done when it's done. See the Fallout: Miami website for more.
If you fancy exploring a safer version of Miami, head on over to the Fallout 4 Nexus to download this. You'll need Fallout 4 plus all the official expansions to play. Bienvenidos a Miami...