FIFA 18 demo kicks off with a fry-up
Delicious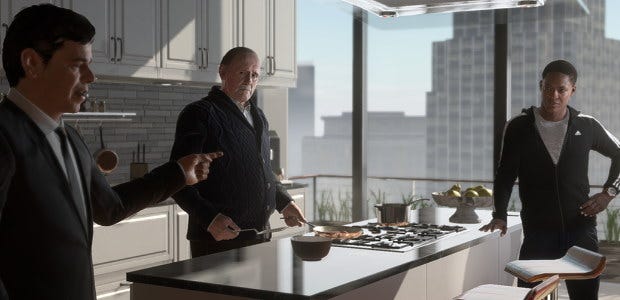 Playing the newly-released free demo of FIFA 18 [official site] and its slice of the story campaign, I was delighted to see events kick off with a grandpa cooking a fried breakfast. Video game bellies are filled with cheeseburgers, meat on the bone, and fizzy pop, yet the humble fry-up is rarely featured. It's not right. Assuming that the full game continues this focus on sizzling pans, I'm suddenly a lot more interested in FIFA 18. Oh, and for fans of plain ol' football, the demo has lots of kicking too.
The demo is available now through Origin.
It brings Alex Hunter back from FIFA 17's The Journey story mode, visiting his life at a point when his dream team are trying to poach him but he'll need to focus if he's to get a great offer. Play well as him in a match against Manchester and see how it goes. Maybe you'll even discover what happened with that fry-up.
The demo also packs the straightforward Kick Off mode, letting you jump straight into matches between a dozen football clubs. You'll find Juventus, Manchester, More Manchester, Boca Club Juniors, the Munich Reds, the Toronto Drakes, Vissel Kobe, Saint Paris of Germany, Hollywood Stars, the Madrid Scrumping Bears, Uh Actually We're Madrid Thanks, and The Good Fulham One.
FIFA 18 is due to launch in full on September 28th, priced at £54.99.