Fight a crazy comet in Darkest Dungeon's new DLC
Crazy for comets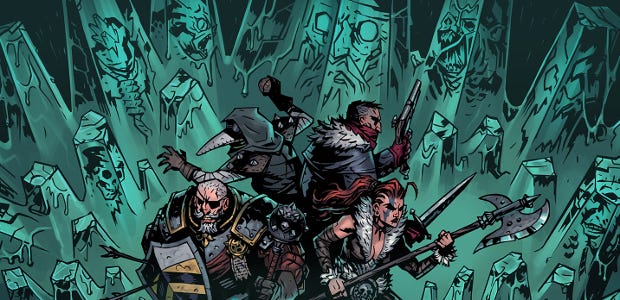 Stress and madness simulator Darkest Dungeon is taking a trip to the farm in its latest slice of DLC: The Color of Madness. Out now, it sends adventurers to a comet-cursed farm where they'll need to kill its denizens and survive an endless tide of monsters old and new, all trying to reach the resting place of the comet. Sounds like a lovely day out in the countryside. It's also accompanied by a rather hefty balance patch.
New buildings, quirks and enemies have been flung into the game, along with an Endless Quest through which Red Hook have issued a challenge to players.
Survive as long as you can while getting lost in time and space, confronted by unending waves of enemies new and old, pushing ever closer to the crash site of the Comet.
Go on, then. Give it a go. The trailer doesn't make it seem stressful at all.
The balance patch seems like just as major an addition as the DLC. It's the result of months of reassessing heroes, abilities and trinkets, finalised after three rounds of changes. It's massive, then, and potentially divisive.
It's the nature of the beast that not all changes will be loved by all players. We know that, on occasion, something you love might be altered in a way you don't like.

The working philosophy for this giant balance update was that we wanted to shore up *weak* classes/skills/trinkets more than we wanted to nerf strong ones. Yes, there are some nerfs, but I think you'll find that those changes are much less frequent than buffs. Where possible, we tried to correct dominant strategies by providing alternatives that are similarly exciting.
The patch also introduces the musketeer class. It's a mirror skin of the arbalest and was originally a Kickstarter exclusive. Now it's available for everyone as free DLC. You can download here.
The Colour of Madness is live now, and you can grab it from Steam and the Humble Store for £4.99/$4.99/€4.99.