Final Fantasy XV director dreams of PC port with mods
If wishes were horses...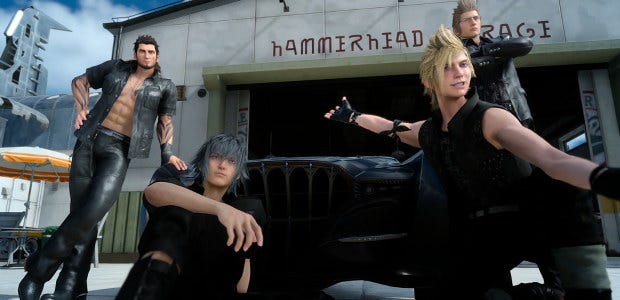 Square Enix still haven't announced a PC port for Final Fantasy XV [official site], but I am cheered by game's director saying he would like to bring the anime boyband roadtrip over. Hajime Tabata even says he'd be interesting in special PC features like mod support. This is, unfortunately, not a plan. It's not an announcement. It's not confirmation. It's not even really a hint. But, as a short answer in a short interview, I am digging this. Please, Square Enix, let the rowdy boys come out to play.
I know I call FFXV an anime boyband road trip but really it's about a prince and his pals travelling to his wedding when his homeland is invaded and his father killed. It is a road trip, mind, complete with camping and beautiful authentic campfood. Continuing the series slow shift away from turn-based combat, it has real-time hack 'n' slash 'n' zap action with optional pauses if you want to gather your thoughts.
Meet these nice boys:
As for the mooted PC version, here's what Hajime Tabata said in the latest issue of Japanese magazine Weekly Famitsu, as relayed by Esuteru and translated by Gematsu:
"I'd like to release the game on PC as a technical attempt. I want to show PC users Final Fantasy XV running on high-end machines, and we personally would like to see it, too. Also, I would like to try developing on PC to pursue a unique way of playing with PC-exclusive features like making your own quests and enjoying the world using things like mods."
If wishes were horses, beggars would ride.
I'd be surprised if Squeenix don't release a PC version eventually, as they've ported heaps of Final Fantasy games modern and ancient to PC in recent years. For now, all we know is that they're still busy expanding and improving the console release, overhauling one chapter, adding new scenes, and so on. Maybe once they're done with that, we'll see?
If turnips were watches, I'd wear one by my side.