To The Moon follow-up Finding Paradise is delayed
Crash landing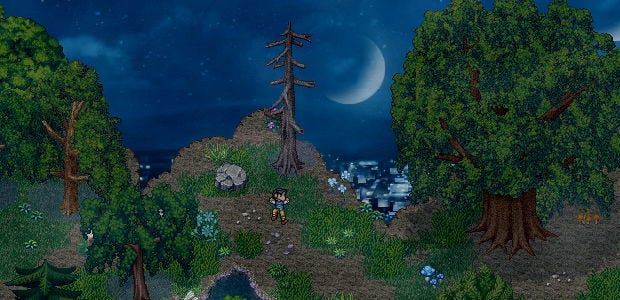 Here's some news that could make you cry: Finding Paradise [official site], the follow-up to the tear-jerking adventure game To The Moon, has been delayed.
It was supposed to come out this summer, but due to "personal circumstances" it's been pushed back until the end of the year.
Here's what developer Freebird Games said:
"Due to personal circumstances, its release has been moved to the end of this year to ensure quality (the exact date and astrology sign of its birth etc. are not yet set).

"The game has been making good and steady ground. A new progressive demo is to be released to internal testers in the coming week that would mark up to the final Act of the game, with the next demo version being the full game."
It's a shame but, as I always think with delays, it's better for them to take longer and get it right than to release something unfinished. And that's especially true when you're creating the follow-up to one of the best adventure games of all time.
Finding Paradise is set in the same universe with the same characters as the original. As a reminder, To The Moon follows the moving story of Dr. Eva Rosalene and Dr. Neil Watts, who change a dying person's memories to give them the life they'd always wanted. It was, as John wrote in his review, "incredibly special".
Freebird Games are being cryptic about exact details for the sequel, only saying:
"Finding Paradise follows the two doctors' travels as they unravel the perplexing memories of a patient named Colin Reeds, to fulfill a wish that seems rather paradoxical… to change something yet change nothing at all.

"And just what exactly is his wish?

"… The same wish as everybody else. ¯\_(ツ)_/¯"
The devs say that Finding Paradise and To The Moon are "two sides of the a coin", and that it's worth playing through the original and its two free minisodes before the end of this year. I, for one, can't wait to get my hands on it.
Here's a teaser video: