Firewatch: Alight Here For First Trailer And Screenshots
Will it set our hearts on fire?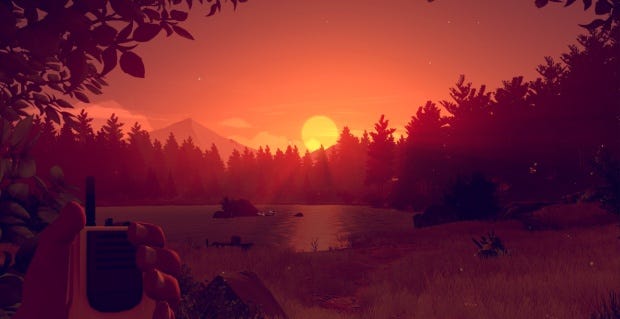 Goodness me, the Firewatch trailer looks a bit good. Just shown for the first time at PAX by Campo Santo - a team made of developers from DoubleFine, 2K Marin and Telltale - it seems to be a freely explorable, though narrative-led, mystery adventure. And good gravy, it looks pretty. The first trailer, and first eight screenshots showing the 1980s Wyoming first, are below.
The acting is immediately striking. It sounds like people - people talking. Not like a person standing on a hill shouting their half of a conversation at a tree. And then the lovely cartoon style, reminiscent of a refined Team Fortress 2.
Henry, the game's protagonist, has recently moved away from his complicated life to escape in the wilderness of Wyoming, to work as a fire lookout. It's a solitary job, but his supervisor Delilah is always available on his handheld radio - she's the one in the video telling him to stay in the tower. Henry doesn't stay in the tower. Campo Santo say that a lot of the game's choices and decisions will have an impact on Henry's relationship with Delilah, in what sounds like a very person tale of both outward and inward exploration. Ooh, I hope it can live up to these promises.
It's going to be interesting to see how they balance letting the player move around the game with a good degree of freedom, and a desire to tell a fixed story. It's also nice to see a game set in the wilderness that isn't a survival sim filled with zombies. Henry will apparently be unarmed as he experiences a mysterious tale that unfolds as you trigger events.
It should be out some time in 2015. Click on the screenshots to see them bigger-me-fied.