Firewatch Livestream: Funnier Than The Trailer Suggested
Have you heard of the Firewatch sasquatch?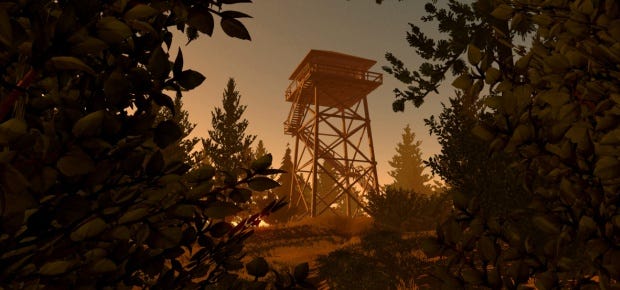 Five days ago, the Firewatch trailer attracted plenty of oohs and ahhs: a first-person narrative exploration game in which you play a newly-hired recruit into the thrill-a-minute world of watching-for-fires, set in a very pretty forest. The trailer raised a lot of questions about the exact nature of your interaction with that game world though. Is it Dear Esther with a walkie-talkie? Is it Gone Home in a forest? Is there a pursuing sasquatch among those trees?
Answers come in this livestreamed playthrough, which is altogether more impressive and exciting than the trailer, and embedded below.
I didn't find this particularly spoiler-y, because I was skeptical about the game beforehand and so didn't mind seeing 15-20 minutes of some early parts of the game through the controls of designer and writer (and former Walking Dead dev) Sean Vanaman. Your mileage may vary. If you don't want to see the game but do want more information, you might consider skipping to the 22-minute mark, by which time the playthrough is over and the devs answer questions from the Twitch audience.

Watch live video from camposanto on Twitch
I pretty much loved this. The dialogue is a lot funnier and a lot less portentously ambiguous than the short trailer; that dialogue is interactive, in that you can choose how to respond to your boss over the radio or choose not to respond at all; and there's more detail than simply canned-animating your way between rope checkpoints, as there's umpteen items in the environment you can fiddle with, each with associated chatter and more responses based on what you use it for.
Developers Campo Santo are a small studio formed by some familiar names, like the aforementioned Sean Vanaman, plus Jake Rodkin from Walking Dead, Nels Anderson from Mark of the Ninja, famed graphic designer Olly Moss, and musician and former Double Finer Chris Remo. They've been devlogging work on the game for a while now, so there's plenty more behind-the-scenes info should you want it.
Firewatch is due for release some time in 2015, which means not all life is pain.