This Is The Way The World Ends, Not With A Bang But A Click
The vanishing of Angel Blaze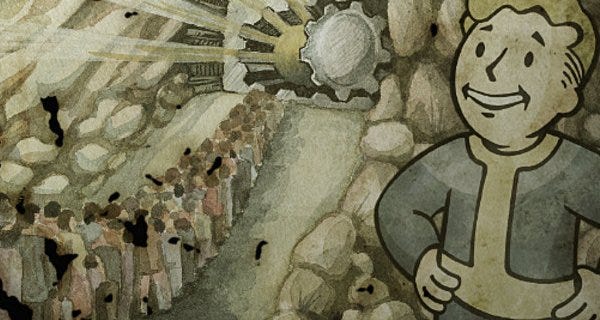 That feeling when you finish a long series of books, or a television series, and say goodbye to the characters for the last time. Closing a world, pulling down the shutters and knowing that it has run its course, is a peculiar sensation. Indeed, it can provoke a sense of loss. How utterly ridiculous I felt last week when I mourned the ending of tens of thousands of tiny football-men, each of which is little more than a pile of numbers and behaviours. BUT CAN ANY ONE OF US CLAIM TO BE MORE THAN THAT, I thought, as I uninstalled Football Manager 2015 [official site] and prepared to move on to the beta for the new model.
I'm very bad at goodbyes.
The loss - or rather abandonment - of my Football Manager save isn't quite like anything else. Or, to be more precise, the loss of a simulated world isn't the same as the loss of a written world. My save game had run up to 2052. It was unique. That specific collection of events and characters does not exist anywhere else and when I decided to move on, cursing the lack of save transfers, I consigned it to history.
All of the stories were my stories, even though I'd been on the periphery of the majority. Sure, there were the Starks and Lannisters of the world - Manchester United, fallen from grace, and Chelsea, enthroned and despised, respectively - but there were so many minor players. For a period from 2022-2028, one of the greatest players in the world was a ridiculously speedy wingback by the name of Angel Blaze. I signed him to Everton in 2020 when he was 16 years old and already had the potential to be a world-class player. By 18 he was a first team player capable of scoring wicked freekicks from distance and almost impossible to pin back in his own half.

from the 1,000 year sim
He'd cut through the midfield like a knife through butter. And not butter that's been in the fridge forcing you to hack away at it like an executioner at the block. Blaze was unstoppable. Better yet, I barely had to give him any instructions. He rarely made bad decisions and he was the perfect final piece in the jigsaw of my team. Previously we'd struggled to finish in the top 4 of the Premier League. With Blaze, we won three in a row (2024/5 - 2027/28) and reached two Champions League finals.
In the second game of the next season, Blaze, now captain, had his leg broken in a rash challenge at the edge of the area. I didn't realise how bad the injury was until the end of the match. Months out of the side. Our form slumped and we were 9th when he returned to action.
And poor Blaze was never the same again. Whether it was something in the simulation or some bias in the way I observed things after that moment, caught up in the fiction of the world, he seemed to have lost his confidence. He no longer cut through the midfield, always looking for the safe pass sideways or backwards as soon as he was challenged.
He remained captain for the next two seasons but his average rating had dropped from the glory days of 7.80 across a season to 6.24 by 2030/2031, when he barely started half of the league games.
Later, he adopted a long-term goal to become a manager when his playing days were over. He didn't seem to mind the lack of first team football. I think he knew his best days were behind him.
When he eventually left Everton it was to return to his native Argentina. I checked in on him occasionally, hoping to see he'd moved into management. I would have been happy to see him back in England, even managing a rival, just to be sure that he hadn't gone for good. I had him on a shortlist, which meant I still received news about his activities. Sadly, there was nothing to report. He retired from football in 2035 and essentially ceased to exist. There was no way of knowing where he was or what he was doing in 2052 when I pressed the button that deleted the rest of the world.
I've said goodbye to many worlds over the years: the mighty and farcical structures of Dwarf Fortress, where an enraged badger often has more character and influence than the entire cast of a long-running television show; the empires, earldoms and families of Crusader Kings, each bloodline as complex and colourful as any soap dynasty; some of my first ever simulated creations in Sim Earth and Sim Life. Worlds without end. Except, of course, when I end them.
I half suspect that Football Manager world still exists somewhere, in the cloud or on a Sega backup server. It's not like the stray files stored on floppy disks that were such fragile homes, that's for sure. But I'll never go back. Not to play, at least. Maybe for nostalgia's sake, but I'll only be able to see the world as it was when I left it, not as it was in those golden days. And Angel Blaze? He's gone forever, retired into the unknown.
This post was made possible by the RPS Supporter Program. Thanks for your funding!