Fortnite's Battle Royale goes F2P next week [updated]
Quite the stir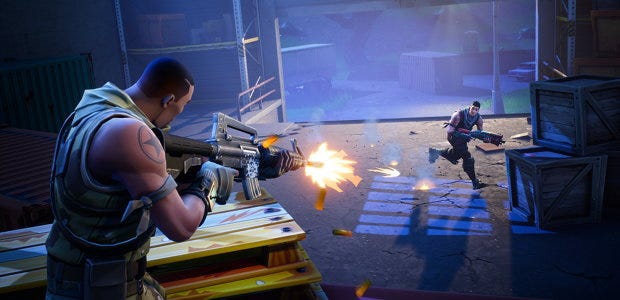 Update: Epic have been in touch to clarify that no, Fortnite Battle Royale won't be standalone. It'll be free within the Fortnite client while Actual Fortnite will remain paid until it launches in 2018.
The Battle Royale mode coming to Fortnite [official site] will become free for everyone whether they've bought the PvE campaign or not, Epic Games announced today. So far, playing the Battle Royale mode has required buying into the sandbox build-o-craft-a-shooter's early access. But next week on Tuesday the 26th, everyone will be invited to play Battle Royale free while PvE remains paid. Fortnite Battle Royale will eventually sell cosmetic items and bits but it should initially just be free-free. As the old saying advises: plunk while the bat is hot.
Like Playerunknown's Battlegrounds, Fortnite Battle Royale starts 100 players flying in a plane over a big map then has them parachute down to loot, shoot, and hopefully be the last one standing. Unlike Plunkbat, FBR has Fortnite's base-building and whatnot. It also tweaks elements of the base game, making weapons and such more like the Plunkbat model. More changes are planned on that front.
Epic started public(ish) testing of Battle Royale within Fortnite last week and say it "worked better than we expected." Time for the big time! "We want the game to reach as many players as possible, so we decided to release Battle Royale for free sooner than we anticipated," they explained.
They insist that plain old Fortnite "is still in development" and they will continue to work on both its PvE and PvP sides. New modes and features are in the works, Epic say.
Compared to Fortnite, Fortnite Battle Royale should be monetised fairly pleasantly. Epic say they plan to sell cosmetic items and are thinking about stuff like the Compendium, Valve's Dota 2 sticker album which offers challenges and prettybits. That sounds fair enough. When our Brendan Prematurely Evaluated Fortnite in its initial early access state, he found its torrent of systems prepped for free-to-play monetisation obnoxious and awful.
For folks already playing Fortnite Battle Royale, hey, expect more players and support for squads to arrive on the 26th. People who bought Fortnite to play Battle Royale (between September 12th and 19th) and might now be a mite ticked off are encouraged to contact Epic for a refund.
Still trying to get to grips with Fortnite? Check out our Fortnite guide hub for more tips and tricks for the game. You can also find the latest challenges in our Fortnite week 6 challenges guide.