Fortnite update adds new grenade type, lunar new year clobber
Save the World mode gets some love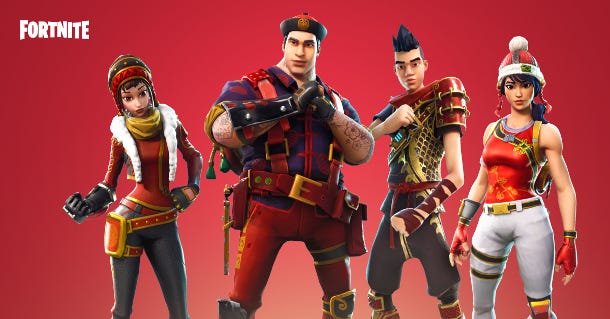 After a bit of a delay, Fortnite's Save the World mode (that's the original, non-Battle Royale one) has finally received its promised Valentine's Day update. The patch adds a few love-themed quests, along with rather a lot more Lunar New Year content that doesn't have a ton to do with Mandatory Romance Day. As detailed on the Fortnite blog, update 2.5.0 whacks in four additional outfits and a pile of weapons with dragons on, while making plenty of bug fixes in the process.
You can now opt-in to higher difficulties in Save the World, by activating BluGlo pylons out in the world that will crank it up to a maximum of 5 times its default setting. Meanwhile, from Feb 19th there'll be a new "universal inventory", allowing you to tinker with your setup in the Armory before you're dropped into the game. All in all it's a sizable update for a mode that, of late, has not received as much attention as Battle Royale.
Speaking of which, of course there's some new Battle Royale stuff in the latest update. Not a lot, but some. The most noticeable addition is a new type of grenade, Impulse, which allows you to fling players about with a blast of energy. It's a blue rarity item found in chests and supply drops only, and it looks like this:
There are plenty of fixes and tweaks for the Battle Royale mode too, including a less powerful but more accurate scoped assault rifle, a more useful tactical submachine gun, and a slightly rarer Chug Jug. You'll also find these shrines dotted about the map, which are obviously themed around the lunar new year.
If you're only interested in the Battle Royale mode, this isn't a hugely exciting update, but it's nice to see the original, paid game mode finally get some love.
Still trying to get to grips with Fortnite? Check out our Fortnite guide hub for more tips and tricks for the game. You can also find the latest challenges in our Fortnite week 6 challenges guide.