Freeze Maim: Metro - Last Light's 'Mobius' Trailer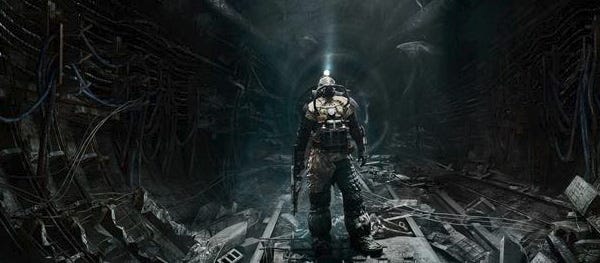 Launch trailers are released weeks before anything launches, trailers have their own trailers, and one day there will be a fifteen millisecond teaser for the reveal of the logo that is set to appear in a five second viral video that is itself advertising an advert for a web-based spin-off of your favourite game. I'm sorry, that's just the way of it. Metro: Last Light is defying convention by opting for a post-release trailer that is there minutes long and also a thing of beauty. The creation of Alexander Bereznyak, 4A's lead technical artist, the 'Mobius' video is a journey through a single moment in the life (and death) of a Metro station. The camera drifts through the frozen figures, tableaux in a high-tech ghost train, and lingers on scenes of desperation, heroism and catastrophe. Watch.
I played Metro: Last Light for long enough to drink in the the perversely beautiful grime and lesions, but not long enough to escape from my escorts. I fear a future in which every game is an escort quest and the player is always the person being escorted. That said, I am unashamedly impressed by the 'visor-wiping' button. Puddles do seem to aim their splashback directly at the face, giving the wiping hand plenty to do, but it's a nifty effect.