Gato Roboto reveals itself as the next evolution in Meowtroidvania design
Good kitty. Soft kitty. Varia kitty.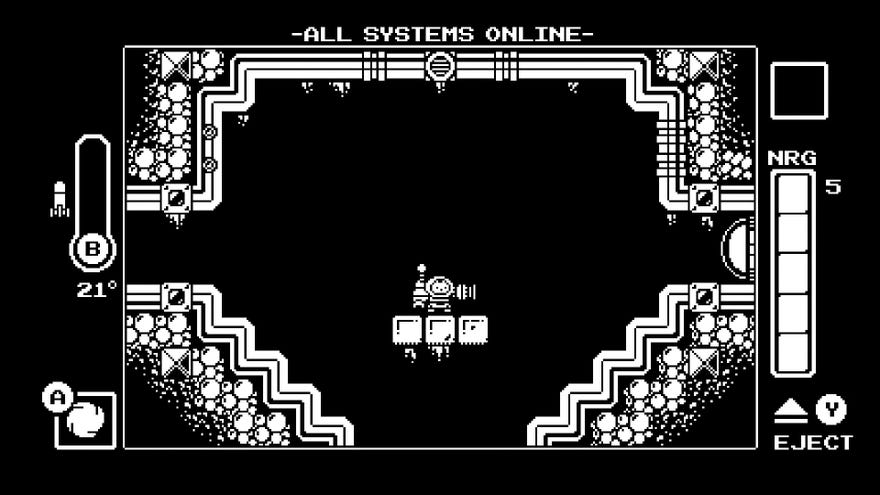 Devolver Digital aren't going to let Metroidvania Month (seriously, how many have there been?) end without having the last laugh. Announced just before we tick over to September, Gato Roboto is a cute little low-fi metroidvania being developed by mysterious newcomers Doinksoft. It stars a precocious feline that somehow ends up driving a honking great suit of gun-toting power armour, instead of just pissing in it, as a cat normally would.
Below, a reveal trailer featuring a very good cat and some surprisingly catchy wibbly beats.
Despite the publisher insisting that Gato Roboto is a "CatMechtroidvania", we all know that this fits firmly within the Meowtroidvania oeuvre. While the art style is immediately reminiscent of the recent (and excellent) Minit or perhaps Downwell, the game that springs to mind for me is Daniel Remar's Hero Core, which is free and lovely. There's also something a little Cave Story-ish about the look of the combat and projectiles, which is always a nice thing to be reminded of.
From the little bit of action shown in the trailer above, the cat's native fuzzy frame seems to act as a stand-in for Samus's rolling ball transformation, with a little bit of spider ball wall-climbing thrown in. Vulnerable though, as it appears even a single hit can cause the soft and pettable protagonist to explode in a cloud of firey monochromatic pixels. Take care of your kitty, okay?
Gato Roboto will be launching sometime next year, but will be playable at Devolver's booth at PAX West this weekend. You can follow the developer here on Twitter, although there's not much yet.