Gears of War 4's PC Exclusive Features Detailed
Including unlocked framerate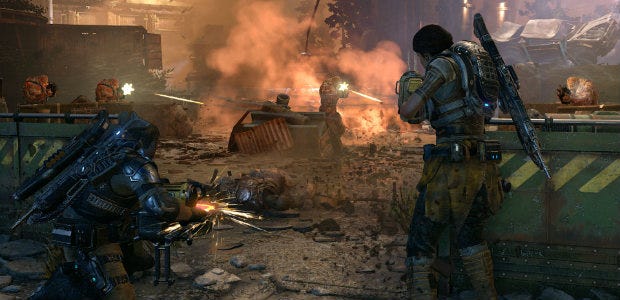 Microsoft have been promising for years that they're going to stop treating PC like their least favourite cousin and they seem to be following through more than usual of late. They announced at E3 that Gears of War 4 is coming to Windows 10 and now its developers have been talking about its PC-specific features, such as an unlocked framerate and remappable controls.
"Our focus on PC is to deliver a highly optimised, customisable experience first and foremost," The Coalition's Mike Rayner told Eurogamer. Gears of War 4 will have an unlocked framerate now that Universal Windows Platform games have the option to turn off v-sync.
The game is also getting improved textures on PC, with some texture groups reaching up to 4K resolution. PC players will have access to a benchmark mode, to work out how to make it look its best on your machine. The keyboard and mouse controls are also entirely remappable, including the controls for cover and running, which share the same button on the Xbox controller.
The Coalition will implement many more video settings, too, with clearer signposts to explain how each setting changes performance. Rayner, the game's technical director, explained:
"Today we sit at 28 different settings and we're thinking of ways to add more for people to really have full control. Along with more settings, we're putting extra time into making it clear what impact a setting will have on GPU/CPU/VRAM so there is a clear correlation between a setting change and its performance impact."
The PC release is also apparently benefiting from work done to make the game run smoothly on XBox One, including offering "dynamic resolution scaling" which will change the resolution of the game on the fly in order to make sure your framerate doesn't dip below 30fps in singleplayer and 60fps in multiplayer.
Gears of War 4 launches on October 11. It will be one of the first Xbox Play Anywhere titles, through which you can buy a digital copy of the game on PC or Xbox One and access it across both.