Warhammer Fantasy And 40K: GOG Add Three Old Games
HUAH!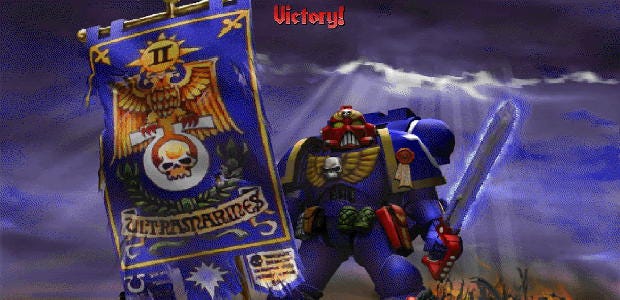 When it rains grimdark, it pours. Following the announcement of Warhammer 40,000: Inquisitor, an action-RPG being made by the Van Helsing lot at Neocore, GOG have dug up and released three old Warhammer games. The virtuous virtual vendors of vintage video games now stock for your purchasing and subsequent playing pleasure Warhammer 40K: Chaos Gate, Final Liberation: Warhammer Epic 40,000, and, from the Warhammer Fantasy line, Warhammer: Shadow of the Horned Rat.
Chaos Gate is a turn-based strategy game about the Ultramarines off to duff up some Chaos blokes. This being from the '90s, it's got oodles of units and customisation to make your dream Space Marines before you chuck them into the meat grinder. GOG are selling it for £6.59.
Final Liberation is a turn-based tactical 40K game, but in the Epic subset, which is where Games Workshop roll out big armies and honking great Titans. This, unsurprisingly, is also a tricky one. GOG have it for £3.99.
Lastly, Shadow of the Horned Rat is an RTS set in the world of Orcs and Skaven. Would you believe it's difficult too? It's £3.99 on GOG.
As a sprog, I had a friend who adored Horned Rat, which is the closet I can come to offering a personal judgement on any of these games. I always thought Warhammer such tripe, and it was only Dawn of War that made me realise how fun and silly the whole thing can be. Orks sold me on 40K, I suppose. Though I hear Warhammer Fantasy has become tediously serious as of late.
Anyway, perhaps you've played 'some of these games and can tell your fellow readers about 'em?