Warhammer 40k: Inquisitor - Martyr Announced
Waaaaaaaagh! Wait, no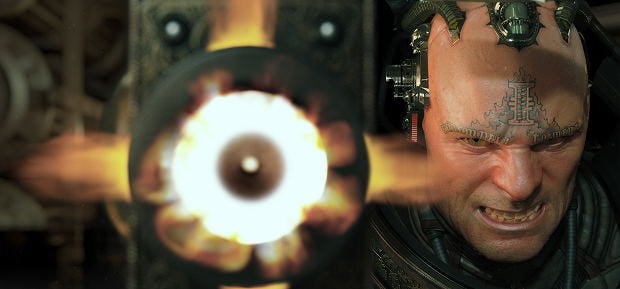 In the grim, dark future, there is only war, but in the grim, sunny present we... well, Warhammer 40k games haven't taken over everything just yet. Games Workshop are preparing to launch an assault on another genre, though, announcing an action-RPG with the lengthy title of mouthy title of Warhammer 40,000: Inquisitor - Martyr [official site].
NeocoreGames, them lot behind the Incredible Adventures of Van Helsing action-RPG trilogy, are will let us purge heretics as a member of the Inquisition - the fiery secret religious police of the Imperium. The game's due to launch in 2016, but I couldn't tell you much more beyond that.
Neocore's announcement calls it a "persistent sandboxed Action-RPG" and "grim" and "brutal", and this is the biggest chunk o' details:
"The single player campaign pitches players into a grim and secret war among the stars as the agents of the ever-vigilant Inquisition. After the end of the campaign the story continues in a colossal sandboxed game set in the same secluded sector of this vast universe. This persistent setting grants years of constant entertainment, gradual development and a continuous flow of content that enriches the Action-RPG gameplay."
Okey doke. Purging and murder, then. Neocore plan to show more of the game at Gamescom in August. In the meantime, here's a short cinematic teaser trailer with a skull and and an angry man: